Well, it's a wrap. 2944 fantastic miles in 13 days.
Here's the map: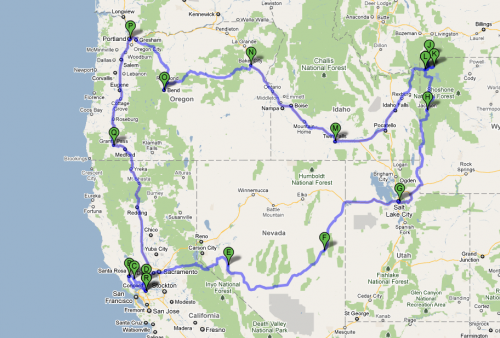 In summary, Jeff and I compiled a few of our favorites from this trip:
Jeff:
Best Meal: Jake's in Portland – Horseradish Encrusted Salmon (Jeff says it may be the best piece of salmon he's had in his life.)
Best Day Riding: Day 9 – Baker City to Bend, OR
Most Memorable Experience: Day 3: Ely, NV – From the ER room to the old western saloons to the shuffleboard. The place is stuck in a time warp!
Best Hotel: The bungalow at MacMinimian Brother's Old St. Francis School.
Missing Gear: The phone charger on the BMW that didn't work even after paying to have it fixed before we left.
Bill:
Best Meal: Dinner in Madison Camp Yellowstone on Day 7. Jeff invented the steak with caramelized onion potatoes & french onion dip.
Best Day Riding: Day 9 – Baker City to Bend, OR
Most Memoriable experience: Buffalo joining us for breakfast on Day 8 in Yellowstone.
Best Hotel: Hotel Nevada in Ely. For the same reasons as Jeff: the place was in a time warp.
Missing Gear: A better camp seat. Mine malfunctioned on day one.
As always, its hard to tell what the real impact of such a trip will be. But I'm relaxed, in a creative state of mind, and ready to get back to work.
Until the next time that I'm back out on the highway…