In six short words: Back to the drawing board gentlemen.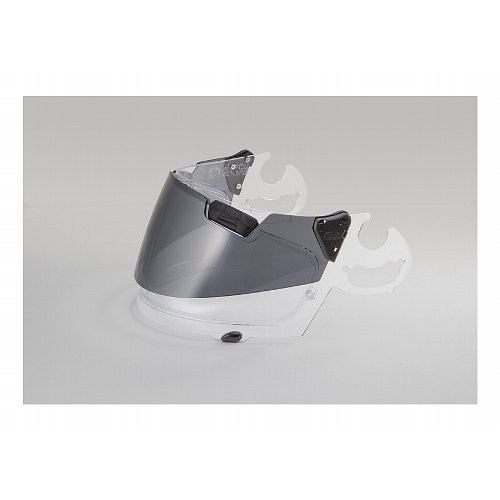 Before I completely wade in, I must say that my Arai RX-Q helmet is the best fitting, quietest, most comfortable, and least leaky helmet I've ever owned. And I've put close to 40k miles on it in the last three years. Perhaps I'm differnt than most, but coming from a cruiser background and loving the wind in my face, I almost always ride with the shield up unless the dust is blowing, the rain is falling, or the bugs are just too thick. And yeah, I flip it down when riding in 93+ degree temps (F).
But there is a lot of innovation happening in helments these days from the top of the line modelers like the Schuberth C3 Pro and the Shoei Neotech to the wildly innovative and upcoming Skully AR-1. And unfortunately, if the Pro Shade is is Arai's response, it is anemic at best.
Even with a three year old helmet, I've resisted upgrading for a number of reasons. Not the least of which is that I've been hoping to land on Skully's beta test program. So, when the Pro Shade System was announced I promptly got in line for Arai's answer to the integrated sun shield. I received it two days before my last big ride and have put a little over 2000 miles on the shield.
External vs. Internal
First, let's look at what drives Arai to create an external sun shield in the first place. Arai is demonstrably committed to the SNELL standard as per the Dexter Ford kerfuffle over his article in the NYT and subsequent firing from Motorcyclist magazine.
In short, no modular helmet meets the current SNELL standard, nor apparently do any of the full face helmets with internal visors. Thus, Arai is looking for an external solution. On the face of it, so far, so good.
So lets start with the good:
Watertight – spent about an hour all totaled in the rain with no inside leaking when completely locked to the helmet.
Pinlock ready – can't beat this. All my existing Pinlock with brow-vent inserts work with the visor.
The not-so good:
Nosier than the normal shield, with a particularly shrill whistle when my head was turned sideways in the second position.
Only partially provides coverage in the first position. (Although I supposed this could be considered a feature as it does require you to tuck you chin to a more appropriately supportive neck angle to see out of the shield without the bottom of the sun visor in your way.) Non the less there is no coverage left or right as you can see from the photo.
Because it is external, the shield must be down for it to be used as a sun screen.
The brow venting feels cheep and frequently would not stay in position.
And the butt-ugly:
The sun screen doesn't work as a visor. In the up position (position two) it is no help at all riding in sunrises or sunsets. It just doesn't extend far enough to do any good.
At anything approaching passing speeds it will suddenly jump from position three to position four which was no fun on my neck at all.
I've been trying to come up with a riding scenario in which the Pro Shade System would be a valuable edition and 2000 plus miles later I'm still at a loss. To me and my style of riding, this just doesn't provide any value at all.
The external solution just doesn't cut it and the Arai engineers need to go back to the drawing board. This certainly won't prevent me from buying another Arai helmet, but there is a slightly used Pro Shield for sale in the original packaging collecting dust on my garage shelf. (Comment if you are interested.)
No Stars
Spend your $100 on a steak dinner – you'll get more mileage from it.
Update: Matt Chambers over at SF Moto arranged for a warranty replacement which allowed me to return it for a refund. (If you haven't been in, make it a point. Matt went out of his way to reach out and help with this issue.)
He also said he's ridden several different bikes (mostly sport bikes) and did not have the same problem. Perhaps my experience with the position change is related to the upright seating position of the Connie?