I woke up inexplicably this morning at 5 am. Well perhaps not inexplicably, it was clearly trash day in Portland.
The only rooms when we booked the hotel were cowboy style: one bathroom at the end of the hall for the whole floor. Not particularly my cup of tea, although both the room and the bath were well appointed and clean. Regardless, I prefer a hot shower, so got with it lest the hot water heater was small. Then I read until about 8 and then went down to feed the meters so we wouldn't get a ticket before we had to check out at 11 am. Jeff had already beat me to it.
He wasn't in his room, so I packed and snuck in a nap till 10 when he called to see if I was still alive. Breakfast at Kenny & Zuke's Deli landed me a Reuben sandwich with a couple of fried eggs on it. I really just wanted the sandwich, but they were still serving breakfast. Turned out to be delicious!
A quick stop at Powell's Bookstore was enough for me to commit to coming back when I have more time on my hands. What a place. I need a few days to explore it.
Time to turn south. And really the only way south, is I5.
Only stopping for gas, we got to Grant's Pass a little before 4 PM, and decided to eat out before locating our campground. Dinner was at some "Bear" restaurant which was all-in-all unremarkable.  Overdone stuffed chicken with an underdone bacon wrap. We should have ordered the steak.
A quick stop at the grocery to get set for the night and then we made our way to Schroeder County Park since they allow tents to rent their powered campsites. I paid and Jeff went in to find a site. The campground was almost entirely empty, and proving that great minds think alike, he picked the exact site that I chose on my first night out on the 2007 trip.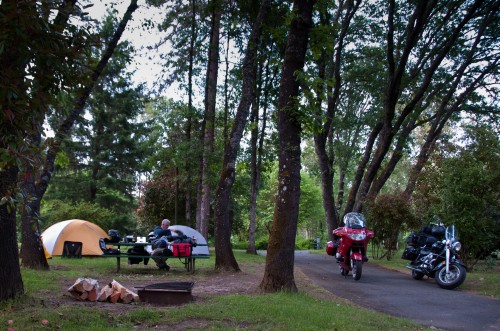 We pitched the tents, strung the hammock, and then settled in to drink some beer, work on the blog and review the trip.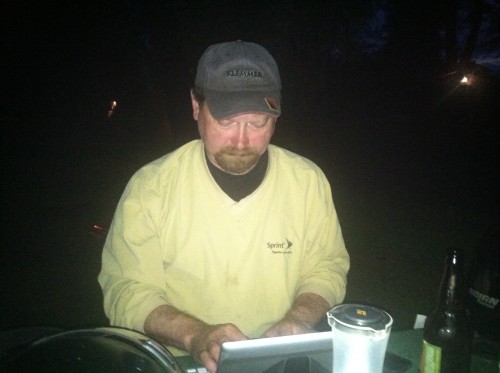 I relaxed in the hammock and watched the last of the coals burn down till I fell asleep. It's a good way to spend the last night out.
Today's Ride: 251 miles