Ever since I put a moratorium on working weekends, I generally look forward to Mondays and today was no exception. Albeit for a different reason than normal.
Mark Silva pinged me early last week to see if I would be available for a ride. After reviewing the work schedule, I decided that I could afford to take a couple of days off to enjoy our sunny California weather.
Every ride needs at least a direction if not a destination and a theme. Mark suggested a "summits" theme where in we would try to fit in as many Northern California passes as possible in 2 days.
The biggest concentration of those passes are concentrated in the Sierras, so we mapped out the following route with an eye to balancing the number of passes with our desire not to make an Iron Butt out of the trip.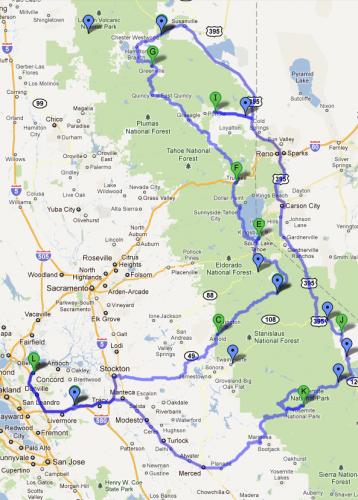 Mark was just kicking a cold, so we met at the same Livermore Starbucks we meet at for our Mines Road rides at the pleasantly reasonable hour of 9 AM.
A quick breakfast and coffee later, we superslabed it over to the CA-4 exit with Ebbits Gap as our first destination.
As you work your way east on CA-4, it is flat farmland and orchards interspersed with rolling hills and, this time of the year, some very hot weather. buy the time we reached Arnold, the (slightly) cooler temps and twisty roads were welcome.
Mark's BMW 1150 RT is a little more aggressive than my cruiser, so of course he beat me up the pass. He was experiencing a zen moment when I arrived at Lake Alpine just short  of the actual pass.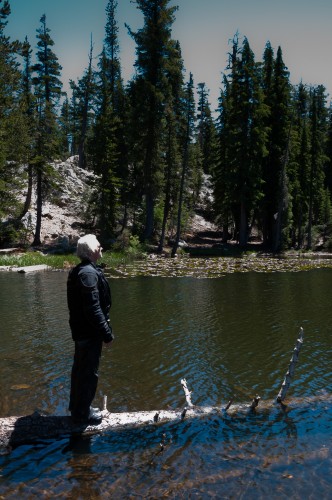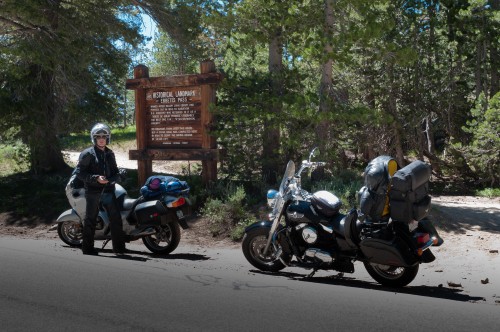 The origional plan was South Lake Tahoe for a late lunch, but we were running behind schedule (which I almost never keep on a ride anyway) and getting hungry, so we stopped in Markleeville at Wolf Creek, a roadhouse that looked promising.
The Alpine Hotel started out as the Fiske House when it was built in Silver Mountain City in 1862. Four years later it was disassembled, moved to it's present location, and reassembled board by board as the Hot Springs Hotel. It was renamed the Alpine Hotel in 1900. There was no information on when they renamed it Wolf Creek, but it doesn't seem to lack for history. The decor is, as you would expect, rustic and worthy of it's historic status with ubiquitous gear and old black and white photos of the hotel and town lining the walls.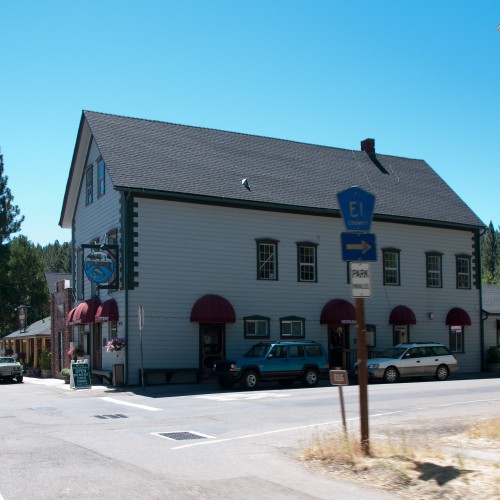 Our server pointed out the ribs as worthy of our attention – and they were everything we expected. Clearly smoked (and not parboiled), they were as good a cut of meat as I have had in ages. They had a great smoked flavor and the sauce didn't overpower the meat. We both give it a high recommend on the meat. The sides were nothing to write home about (canned beans and some strange mustard/mayonnaise mixture potato salad whose calories I was happy to leave on the plate.)
Happy and full, we dropped down the hill and turned north on CA-88/89. I'm not sure if we were dozing in the saddle or if we were just enjoying the road so much, but it took us an hour to realize that we had missed the turn when 88 & 89 diverged.
Not ones to be long dissuaded, and with Carson Pass right in front of us, we decided to reroute and find some place to stay near Jackson.
Besides being a great road for motorcycling (lots of twisties, well paved most of the way, and mostly well banked), CA-88 runs from Stockton to the Nevada border. It's highest pass has a long and storied history beginning with it's name. Somewhere along near the pass Kit Carson carved his name in a tree back in the mid 1800's, but we were still enjoying the road too much to bother stopping to see it.
We landed just after 5 PM and the temp was still in triple digits. Neither of us wanted to be camping out in that kind of heat, so we decided to hit Hwy 50 and double back towards the Union Valley Resevoir to find a place to stay.
About 12 miles off the highway, we found a campsite, but everything around was closed. I was thinking that it was a toss up between a dry camp with no dinner or just pushing on into South Lake Tahoe and finding a cheap hotel and a not so cheap steakhouse. The camp hosts allowed that those were about our only two options and offered us a couple of Blue Moons to help ease the disappointment.
It only took Mark about 5 minutes to decide that Blue Moon just wasn't going to get the job done. Already dusk, he offered to go back to the last gas station and obtain the necessary provisions if I would set up camp.
An hour and 20 minutes and a 40 mile round trip later (seeing a deer after dark does tend to slow one down in the twisties), he returned with two bundles of firewood, a six-pack of IPA, a six-pack of Blue Moon (since no good deed should go unpunished) and dinner: two cold case white bread sandwiches. One ham & cheese and one turkey & cheese. They were so bad they were good.
We caught up on changes in the industry, former coworkers and friends. And we ran out of wood, beer, and words just shy of 2 AM.
Today's route: 356 miles
Summits:
Altomomt pass
Ebbit's Pass
Carson Pass