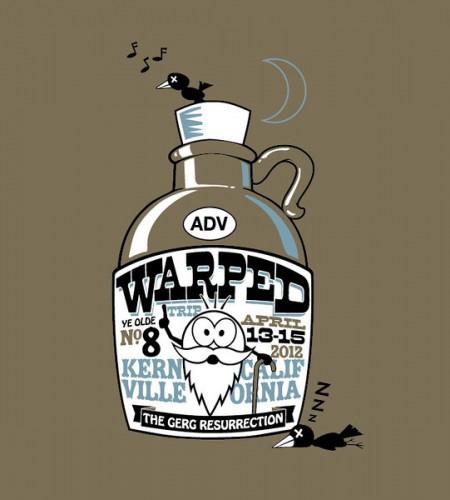 AKA: Wet, Cold, Buzzed, and Happy as Hell
Day One: Thursday, April 12, 2012
Thursday morning begins with the sky pouring rain like piss out of a boot. Dressed up like the Michelin Man and way over packed, I man up and tear off in the downpour for my first ever motorcycle rally, to my first ever ADV event, on my first real trip on a new bike to meet some FFs for the first time for the ride down. What could possibly go wrong?
Cyath (Mike) and SenorPeligro (Andy), stand up guys that they are, have offered to let this n00b ride along with them to WARPED VIII (That would be the 8th annual Western Adventure Riders Party and Endurance Drinking event for those of you not in the know.) and we are to meet at 9:30 in Livermore at the Panama Red Coffee Co. Forgetting to ask and not knowing if they intend to meet at 9:30 or leave at 9:30, I arrive at 9 AM. The rain pauses just long enough for a dry dismount. I show up just moments after they do and we quaff down a coffee and some breakfast. Then it is off to WARPED!
SenorPeligro (Everyone has a handle on the ADVRider forum) leads the way and we angle out Patterson Pass Road to 120 and then pick up 99 South. Lunch in Tulare at the Black Bear Diner provides me the opportunity to try their Chicken Fried Steak and the massive 4x4x4 inch biscuit. Excellent and too much food is the report. Should have taken a photo of that biscuit.
It rained off and on for the whole trip, but nothing too serious. Looking at the weather report lead to us avoiding any route other than the 178. Luckily we had a dry and spirited trip through the canyon. Just short of camp and with my Contours turned off, SenorPeligro sees a hawk try to remove my Contours from my helmet. I ducked just in time and it missed. Sure wish I had video of that.
We arrived at camp under cloud cover and a brief break in the rain. Gerg (the HDIC of the event – real name Greg), not quite sure what to make of my overloaded Connie, kindly checked us in and DaFool (my friend Mike from Fairfield) pointed the way to the keg (good call on the Blonde Gerg!). And, half a beer later we were sitting up camp. I set up two tents, one for me and one for TheDonPuccio who had been delayed by work until Friday. Yes, the Pete Puccio is scheduled to come down tomorrow on his Harley.
Mike and Andy get set up before puzzling about where to find the keg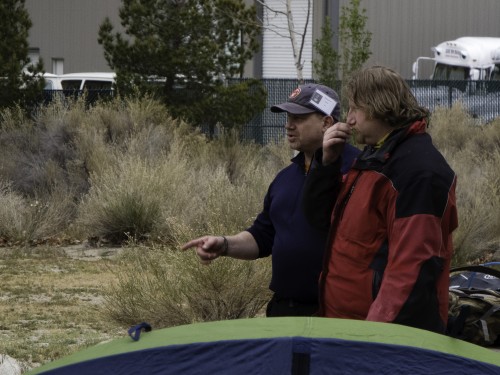 Mike (DaFool) was a little incredulous as I dragged out the tent, cot, air mattress, sleeping bag, cooler, chair, tarp, and tarp poles. He quickly recovered and quit giving me grief when the cigars came out. Clearly a man who has his priorities straight.
The rain abated long enough to get a few pictures.
Dragon M getting a lesson in something – probably illegal.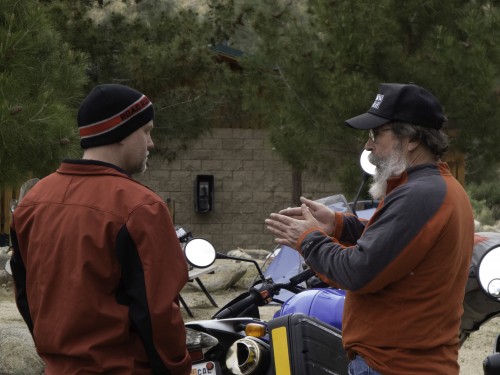 Distant Thunder enjoying a smoke.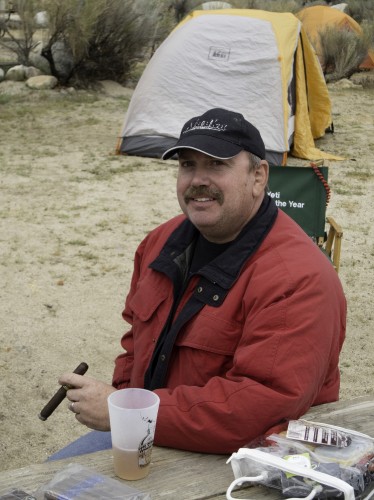 JStory playing bartender.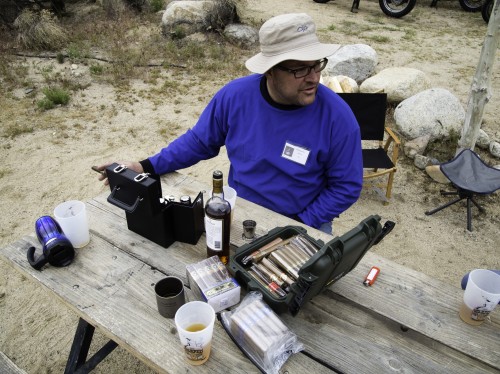 It of course started raining again as soon as I got both tents set up.
Conestogaman and GoinPostal did the favor of bringing tacos and JStory brought the grass-fed organic burgers (and the fully stocked mini-bar). Seriously killer contributions to the event – from the bottom of my stomach, thank you!
Details from here will remain generally vague, but we had a great time around the campfire trying to stay dry, warm, and laughing. Meet a lot of great peeps. Someone started the rumor that the keg was empty which was ingenious since those at our campsite clearly knew how to use the pump and kept drinking till we turned in around 10 PM. Morale of the story is never believe a drunk ADV'er.
Today's Route: 321 Miles