Sleeping in a hammock, especially a light weight backpacker's hammock ensures two things: first, you are going to wake up early and second, you are going to be a little stiff from not moving around.
I grabbed the camera for this shot before I unwrapped my self to get the day started. Those c-lips are handy for keeping one in the hammock all night.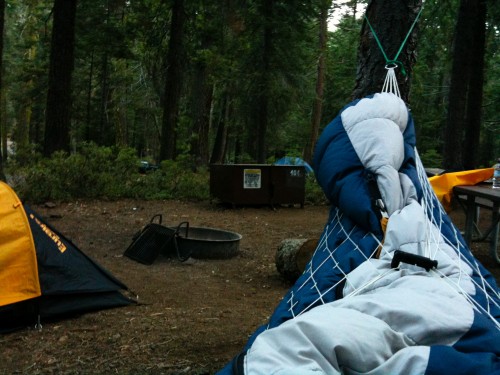 I broke camp and headed for my cell tower to see if there was a message from Pete.
No message. But I'm really not worried yet. Pete's been on the road for over 30 days already and I know that something beautify happens when you are on the road that long. Not only does the clock lose relevance, but so does the calendar. Honestly, he could be thinking today was still Thursday. I know. I've done it.
Well, AT&T has a signal down in the valley, so I cruised the valley waiting for a call.
I spent an hour or more watching these guys jump from near El Cap and hang glide their way down. I'm not even sure that's legal, but a half dozen or more were taking their time launching off the cliff. Look closely and you can see them in all the following photos: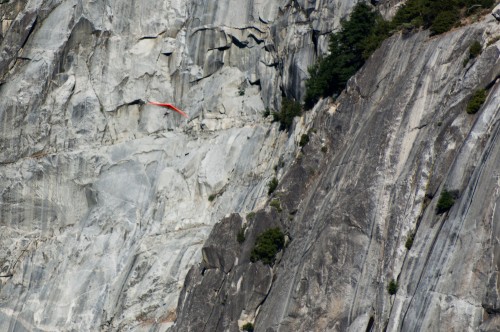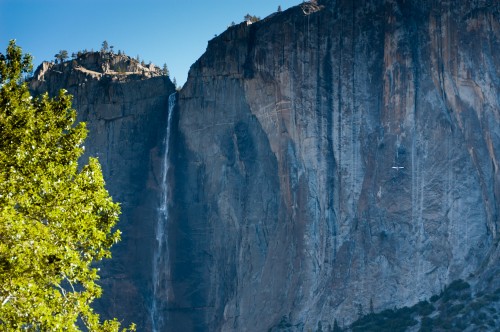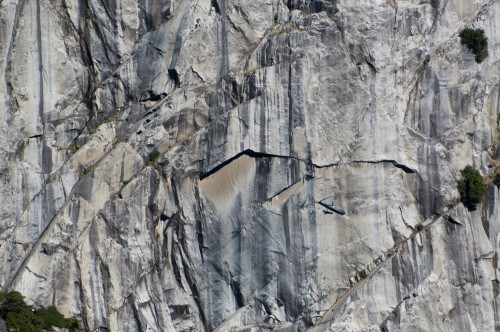 Just added this to my bucket list!
So I hung around Yosemite trying to stay in range of a cell signal. Ate breakfast, had a cup of coffee, had another cup of coffee and around 11:30 I hear from Pete!
Turns out I was right – it was Pete last night!
Apparently, Pete was up late at the poker tables and got a late start on Friday. Not a good idea when you have 400+ mile drive ahead of you. When he reached Crane Creek and saw the "Campground Full" sign, he checked the bulletin board for a message from me and, not finding one, left to find a hotel or another empty campsite.
Bulletin Board? They still have those? Apparently so, and it never crossed my mind.
It also turns out that when Pete passed me last night he thought it might be me and pulled over and waited to see if I would turn around. And he waited, you guessed it, about 5 minutes.
With no cell signal, and therefore no map, Pete ended up riding another hour and half to find a hotel – in an area that still didn't have a signal. Gotta love technology.
So I had a snack and waited on Pete who showed up around 1:30 to scarf down a late lunch. It was Pete's first time in Yosemite, so we took our time going back through the valley and out to Hwy 120. As I have said before, if you haven't been, you really must go.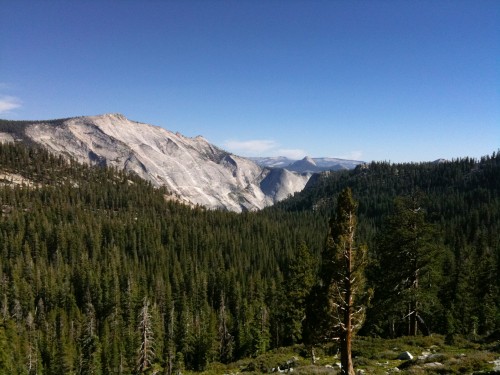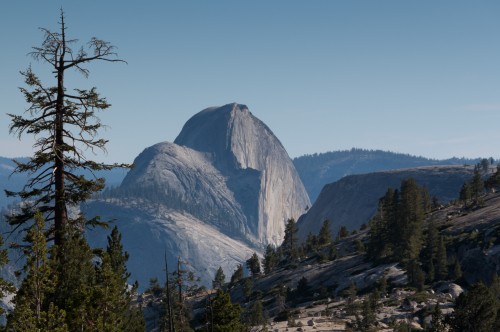 Here's a shot of Half Dome from the East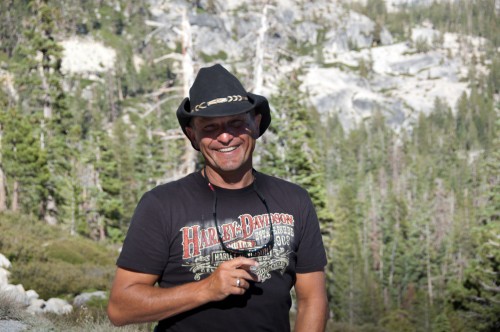 And here is a shot of Pete after 30 days with his "back out on the highway."
Just past Ellery Lake on Hwy 120, also known as Tioga Pass Road, there is a long loop that hangs over the edge of the valley. You can see it in this photo as well as the clouds that were piling up.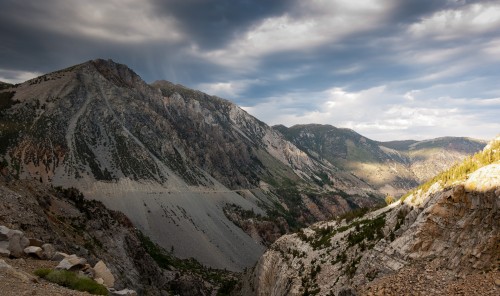 The Tioga Gas Mart in Lee Vining is not just a gas station but a restaurant as well that was reputed to have some of the best burgers anywhere. We had decided to stop there for breakfast and decide if we were going to go North or South.
As you can see here, the closer we got to our burgers, the more clouds we saw.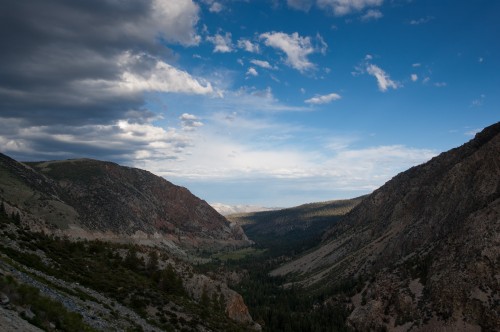 By the time we got the restaurant, we were watching it rain across Mono Lake.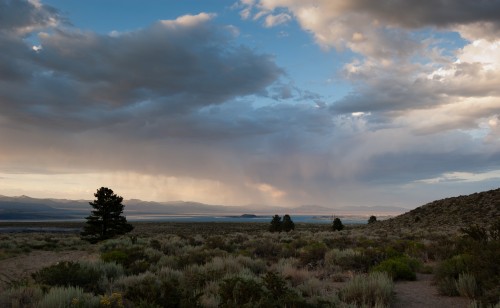 And this is what we were after.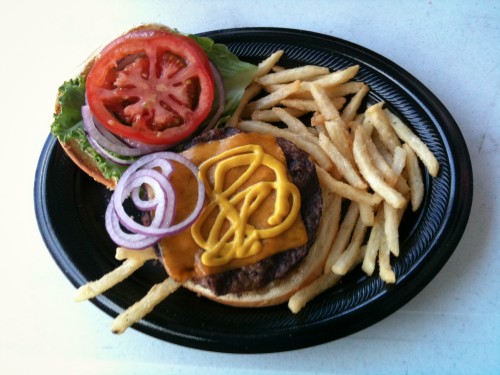 It wasn't much for presentation, but man did it hit the spot.
There is cell service in Lee Vining, so we checked the weather report and the unanimous decision was to turn North.
As we headed North on 395, I'll never forget the sun painting the incoming storm with brilliant blues, reds, and purples. I've actually never seen anything quite like it and I know I'll regret not stopping to try and capture it. But, we were trying to outrace a storm and get somewhere dry before it got too dark.
By the time we reached Bridgeport, it was dark and we were thirsty. The first place we stopped, Bridgeport Inn, only had "cowboy rooms" available. Upon asking, we were informed that meant a common bathroom and no power in the room. And they only had one.
A half hour later, we were back to take that room. After stopping at 5 or 6 other hotels and motels, we discovered that the town was sold out. They did have a bar and a restaurant, so we hung out till they closed at 9:30 or so. The bartender poured us a couple extra beers and sent us out on the porch just to get us out so he could close up. It's a great place to stay and they are very friendly, but call ahead for reservations to get a normal room.
Pete and I haven't had much of a chance to catch up, so when the beer ran out we found the flask and cigars and, although we didn't get any complaints, probably kept a few unfortunate folks up till around 1:30.
Today's Route: 101 Miles