Concours 14: Can You Feel The Heat?!
In a word, Yes! And it's accurate any way you want to relate to it.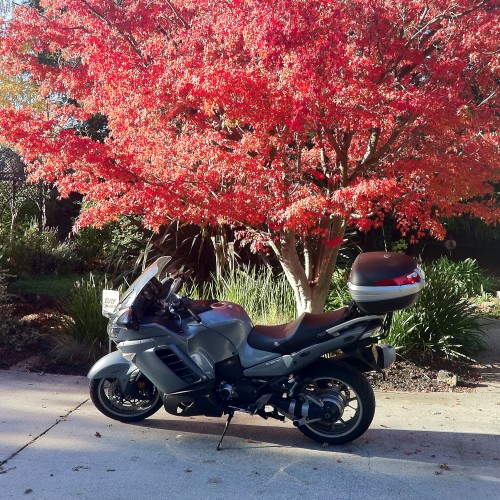 I had the good fortune to spend my day with "Connie," and man, is she hot. Well, at least the 2008 model is. Since I wanted to get a feel for her in several different environments, I set aside a day and mapped out a ride that would include superslab, sweepers, twisties, heavy city traffic, and heavy highway traffic. And given where I live, that is no simple feat: there are just so many options!
Having been a cruiser rider from day one, I wanted to check out my chemistry with Connie to see if there was any potential in this relationship.
I left around 9 AM this morning looping over Kirker Pass Road to CA- 4 with the intention of catching I-680 to I-80. First issue to surface was the size of the grips. These things were not built for my hands. I've clearly adapted to the larger, more supple ISO grips on the cruiser. My throttle hand was cramping 5 minutes into the ride, so I stayed on 4 out to Hercules and stopped at California Sports Touring to pick up a Throttle Rocker.
Luckly, CST opens at 9, so $11 and 10 minutes later (had to look around you know), I was out the door and back on the road with my right hand gratefully relieved.
Once on I-80, my attention turned to the bike – or rather the speed of the bike. It just didn't seem to want to run anything under 85. And, the longer I rode the faster it wanted to go. No doubt about it, this engine is hot. Roll-on was quite impressive in all the upper gears and the faster I went, the more stable Connie felt. I reached my upper limits long before she did.
A friend of mine, Matt Zuckman, once commented after riding my cruiser that he'd "never ridden a couch before." And despite the relatively upright ergonomics, I was about to decide I was actually riding a sports bike for the first time. I found more pressure on my wrists than expected which leads me to the windshield.
The '08 Connie has an adjustable windshield and I found that at normal highway speeds (i.e. the speed limit & just above), I preferred to have the windshield at its lowest setting to help release the pressure on my arms. At higher speeds, I found the windshield helpful, but at its highest setting, it did produce quite a lot of chop around my helmet in addition to increasing noise in a noticeable way.
Just past Vacaville, as I jumped off on I-505, I started to feel the heat on the right side and noticed that I was swinging my right knee out to avoid it. This was a major complaint of all the reviewers of the '08 model and has reportedly been fixed for a couple of years.
A very quick run up to CA-128 left me confident that had I been out with Meehan or Silva I could have at least kept up in the straightaways.
CA-128 is mostly 20 to 40 MPH curves with a few rolling hills in the short runs. It was immediately obvious that I need some track time to take full advantage of this machine. Even with the windshield at its lowest setting, diving into corners tended to put too much pressure on an old injury in my right wrist. I'm thinking a set of risers would be one of the first changes I would make.
By the time I reached the Crossroads store at 128 & 121, the sun was out and with the temp north of 60 it was time to peel off some layers and grab a cold drink.
The next noticeable issue is the stock seat. It never got good reviews, but I can usually last till the first fill-up before I start noticing a seat. Not this one. It started pinging my consciousness at about 100 miles into the ride, which didn't bode well for the remainder of the day.
A right on Berryessa Knoxville Road, took just past Spanish Flat on Lake Berryessa for a brief stop to stretch.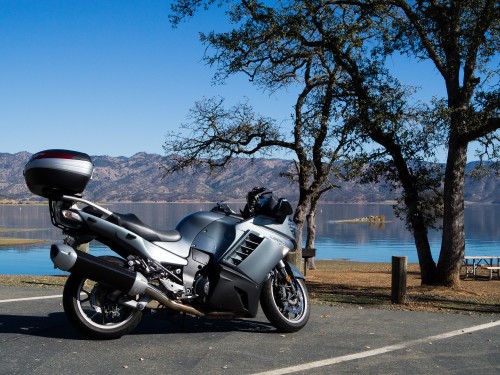 I have to say, the more I look at that Givi top box, the less I like it on this bike. It just doesn't match the lines (with or without the saddlebags). It's a nice enough box and was way more room than I needed for today's trip, but it just doesn't look right to me. This one rattled too. I solved it by wedging four paper towels in between the box and the rack, but that's not a permanent solution.
I took a little longer coming back out to CA-128 as on the way in I was reminded that deer don't always wait till dusk to cross the road.
The road from here, also known as Sage Canyon Rd, is well paved and has a lot of 15 & 20 MPH curves. A better rider could have done a much better job of justifying Connie, but I managed to enjoy myself nonetheless. And, although Connie weighs in at just under 700 lbs, she never felt heavy or out of control to me. Several reviews credit her with heavy steering and all I could think about is that they must be comparing her to sports bikes and not cruisers.
Just past Lake Hennessey, one has the option of staying on 128 to Rutherford, or turning onto Silverado Trail for the run up Napa Valley. Silverado is the road less traveled, so that was an easy decision. With not a lot of traffic on the road, I got a chance to see how well Connie passes. Wow! Can't do this on a cruiser.
The way leads past the east side of St. Helena via winding sweepers and picturesque views of vineyards to the Lake County Hwy which drops you into Calistoga. The fuel indicator was low, so I rolled all the way through town to one of the two gas stations on 128.
Getting the bike up on the center stand is not for the light of weight. Unlike the BMW 1150 that has a handle specifically for this exercise, on the Connie, you have to use the passenger grab handle, which doesn't actually provide much in the way of leverage. Luckily for me, I got it up without a tip-over (apparently one of the most common causes of tip-overs on the forums), but it required all my weight to do so.
I toyed with the idea of lunch in Calistoga, but with one of my favorite restaurants only a half hour and a lovely road away, I rolled her off the stand and a few miles north on 128 turned left onto Petrified Forest Rd.
Take a look at this road on a map and you'll see why by the time I turned onto Calistoga Rd to drop down into Santa Rosa, my legs were cramping from holding my weight up off my wrists. This bike disguises exercise as riding.
Next stop is lunch at Betty's Fish & Chips. If you like super thick beer batter on your fish that tastes more like the oil than the fish, this is not your place. They have a unique way of prepping the fish that leaves just the slightest amount of crisp breading on it. It doesn't come out greasy, you can taste the fish, and they are generous with their portions.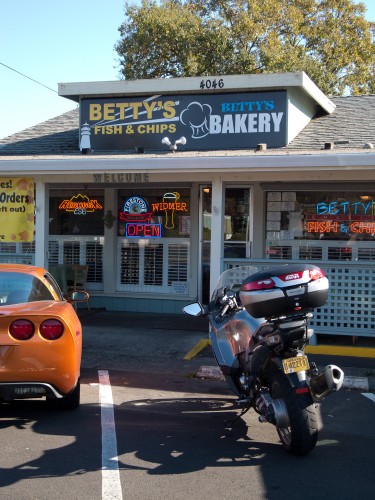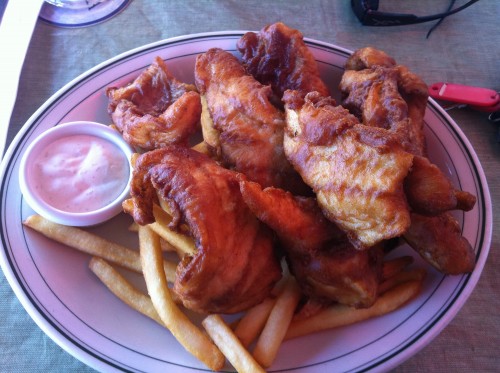 Full, happy, and with a chance for my rear end to forget what setting on that saddle feet like, it was only a spirited romp down CA-12/Bodega Hwy to CA-1 on the coast. Did I mention how well she passes?
I stopped somewhere along Tomales Bay at the same place Billy Bartles and I stopped for a photoshoot of the Triumph last year.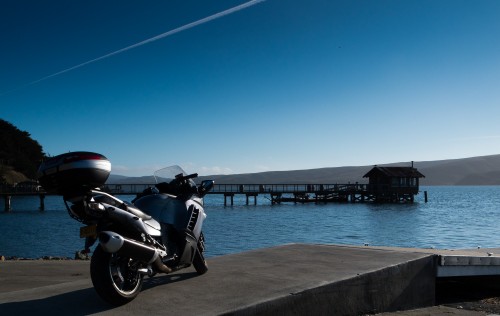 It would be nice to drop all the way down Hwy 1, but the sun is low in the sky this time of year and I needed to be back in the East Bay before 5:30. Suiting back up with the warmer gear and turning east on Marshall-Petaluma Rd, I immediately found a handy use for the special lockbox above the gas tank. When the low sun and heavy foliage turn the road to dusk-like conditions, you can take off your sunglasses and store them without having to pull over.
And as the temps fell I found my right knee back on the bike and welcoming the heat coming off of her.
I wanted to ride in traffic, and I got it. Not only on this road (with few places to pass), but it dumps you out onto Sir Francis Drake Blvd into San Rafael. It would have been quicker to have stayed on Hwy 1. But alas, I got to test Connie in the traffic. She is well balanced and much thinner than the cruiser. It never felt top-heavy or uncontrollable even at slow speeds splitting stopped traffic.
The rest of the trip was highway traffic at rush hour and again Connie shows her colors. Easy passing, plenty of power to get around the cage drivers texting, and a free pass for the HOV lane got me back on time to drop off the bike.
At the end of the day, to say I'm impressed with this bike would be an understatement. It is a fun ride. It's an '08, and most reports have the heat on the right side issues as fixed in the newer models. At the same time, the "hot" of it's performance is still intact. My biggest concern personally is if the standard riser kit, dropping the pegs, and replacing the seat would be enough to make it a comfortable ride for multiple long days. I certainly wouldn't want to take it out for a 7500 miler without those upgrades.
All in all, she's got a lot of potential, but the research continues…
Note: For the record of others reading this review I'm just over 6′, 205 lb, and have 34″ inseam.
Today's Test Route: 274 Miles