We took our time breaking camp, and were away by 8:30 just as it was starting to get warm.
I do have to say something about Brian at this point. The dude has a seriously bad case of the permagrins and I suspect that it has everything to do with that new KTM 1190 he's riding. Every time I see him near it he's smiling like he just won the lottery.
Our path out this morning is on 201/A7 and it set the tone for the rest of the day. This is an absolutely beautiful motorcycle road. It was a perfectly banked, perfectly paved, and perfectly empty road. The only real danger is the suicidal ground squirrels that the locals call "squeakies." We didn't hit any of them, but we did get a mild case of the "brisks" and had a virtually perfect ride out to 139.
Shots from the road: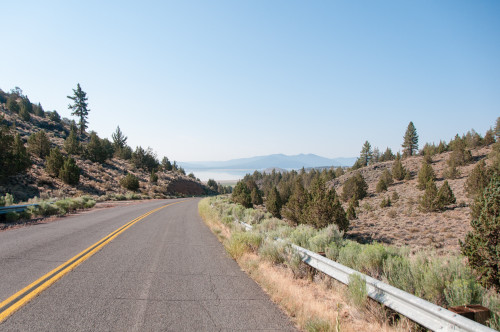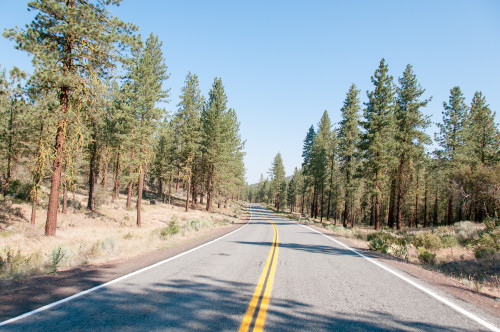 After lunch in Klamath Falls, I being in the lead, took a wrong turn and half an hour later we are suddenly crossing back into California. I lost my cool in the embarrassment of wasting our time and then immediately lost my smooth. We got straightened out directionally, but now my lines were all off. I was going into the corners too hot and apexing too early. Luckily, Brian is easy to ride with and took the opportunity to pass me and ride his own ride just about the time I was ready to wave him around. And suddenly I'm back to the earlier referenced conversation with JC – just relax and enjoy the ride.
So I did: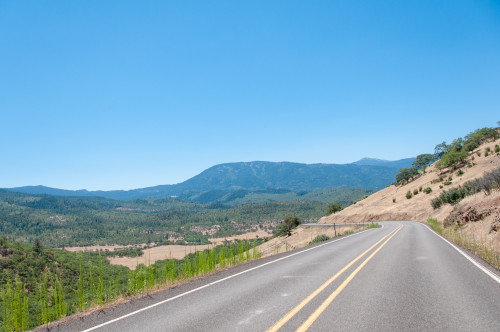 Getting closer, we exit to Hwy 42 and almost immediately run into construction – but you already know what I think about that. Brian doesn't seem to mind.
We are near, but the map shows us not going through Myrtle Point, so we elect to make a quick stop for ice and beer so we don't have to double back.
Apparently, our friend TheGoogle wanted us to take a "short cut" that was part dirt road, part washed out asphalt, and part fire trail. As mentioned before, there's a reason the bike has an ADV sticker on it. So we meandered down the path indicted and would have missed this had we not taken the short cut:
And behold, our friend ATT drops the signal, thus proving that GPS's are superior to "cell" technology. After some, but not much wandering around, we found DaFoole's place and were welcomed with open arms and cold beer. We had a nice 4 acre plot to find a camping site. Everyone politely chose reasonable "snoring" distances. 😉
And as typical, we got down to some serious eating, drinking, lying, and general catching up. I set up the tent without the rainfly to take advantage of going to sleep watching the stars. Parepin cooked up a delicious gumbo or jambalaya, there was some debate on this. And the firepit he built worked marvelously! Well done Parepin in all respects!