Saturday, April 14, 2012
Saturday dawned dryer but still overcast and Mike, Andy and I decided to ride Death Valley. First stop was Ridgecrest for breakfast at Kristy's Family Restaurant. Much better Chicken Fried Steak here than yesterday's stop. And the rest of the day we spent running into the same usual FF's at all the gas stops.
The temps rose about 20 degrees from camp to Ridgecrest and we saw a lot more blue sky. Peeling off a layer before going into Kristy's.
They wanted to make a run to "the pinnacles" and so I, being on a 100% certified street bike, demurred and spent a half hour taking photos instead. Off they peel for some dirt.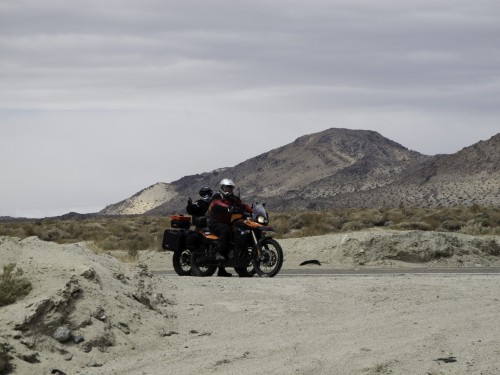 Not exactly a thriving metropolis here. Lot of abandoned buildings to shoot. Here are a few shots from the next hour or so.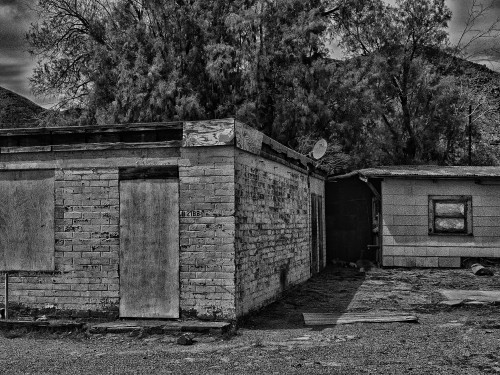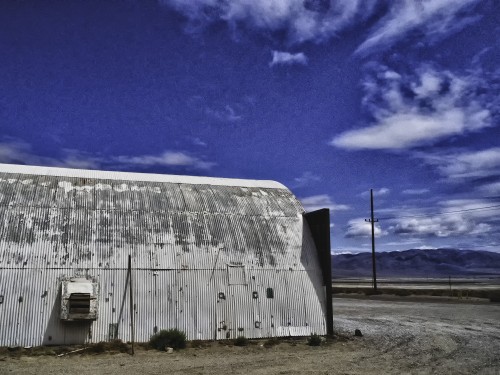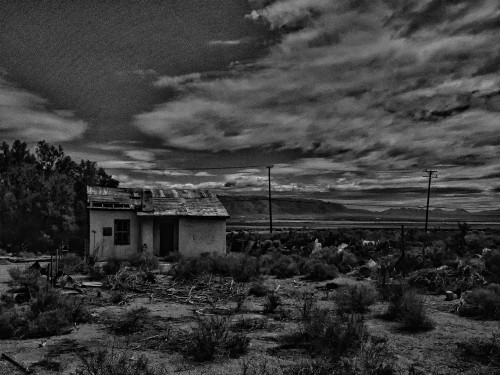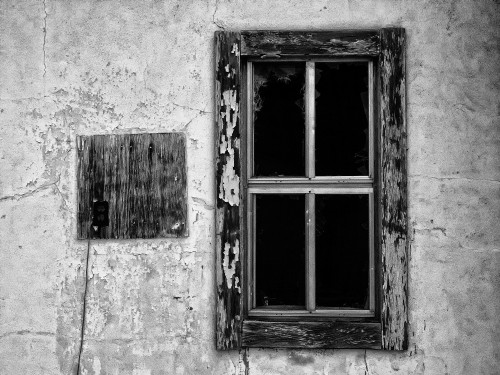 We reconnected after their excursion and Andy offered to let me ride his BMW F800 GS. I took it out for a quick spin and may well have found my next bike. Still doing research though.
Later, along some lonely stretch of highway I saw Mark ahead of me signaling. And here is where the confusion set in. When I make, or see that same signal with my regular riding buddies it means "go on – let it rip." And so I did.
Unfortunately, he was waving me up to let me know his bike was dying on him. Typical n00b mistake I suppose. They were both relaxed about the whole deal. My kind of riders. I did get a nice run out of the Connie in the process however. Next investment clearly needs to be a radar detector. Luckily when he caught up, he was still running and we made it back to camp in time for dinner and the raffle. It was nice to be dry and warm again, if even for a few hours.
It was looking better and getting colder – dropped another 20 degrees again in about 10 minutes of climbing toward the new front.
With the cloud cover gone, it turned off COLD. Good thing there was food, beer and a couple of fires. Not sure who ordered the ice cream for dessert, but I'll bet there was plenty left over. Dinner was excellent as was the beer. Although no one started the rumor in time and we ran out before all the prizes were awarded.
Getting close the grand prize, GillaFunk pipes up and says "Whoever wins the Klim prize has to run next year's WARPED."
And I thought to myself – "Awe shit, I'm going to win that damn gift certificate." BOOM. Gerg claimed that the drawing was rigged. I think that was just his way of sinking the hook.
Beerless again as the keg of red was emptied during dinner and the raffle, we took up a collection and Gerg and sopascat, and perhaps some others made a beer run. God bless his fur-covered head.
Anyway, later, around the fire I committed to being the HDIC of WARPED IX if Gerg and Yeti would support me and keep me from making any n00b mistakes. Of course they agreed, no skin off their nose, and so next year I'll be heading up this bunch of misfits, degenerates, and adventurers. And the best part of this deal is that GillaFunk is already on the hook for WARPED X.
Lots of ideas were offered around the fire and the general consensus was that the theme should be "Post Apocalypse" based on the Mayan calendar running out this year. I'll leave it to your imagination as to the various sub-themes that were submitted.
One thing I can say for DaFool and YetiGS: they can build a fire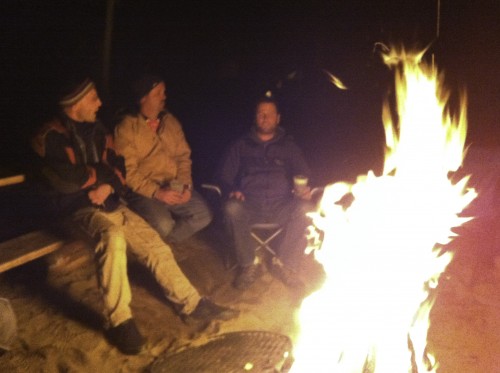 Today's Route: 302 Miles