Friday, April 13, 2012
Woke up Friday with rain and low-and-behold there was no water in the restrooms. The well had collapsed to the property. Not a good start to the day.
Everyone stood around waiting on Gerg's next pot of coffee to perk and trying to stay warm for awhile. And being resourceful, a ride in the deluge into town for breakfast and a bathroom was deemed the best course of action.
Chicken Fried steak for breakfast again: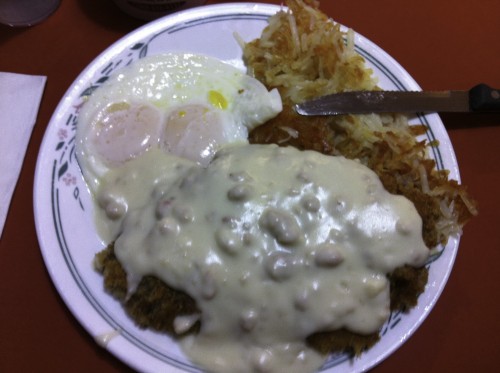 Back at camp, while the erstwhile Eagle Scout NappyG (AKA Ben Carufel ) dried his gear in sopascat 's dryer, (don't ask) while she knocked out a couple of batches of brownies for everyone – what a doll!, we decided to live up to the name of the event and started the Endurance Drinking about 10 AM. The keg still had plenty of beer.
The agenda for the rest of the day boiled down to drinking, eating, bitching, trading insults, telling lies and trying to stay dry. There were a few breaks in the rain and then it started snowing. Snowing for crying out loud!
DaFool defying the weather gods!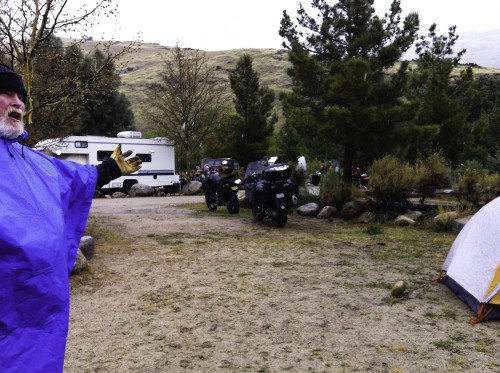 The Connie's first snow.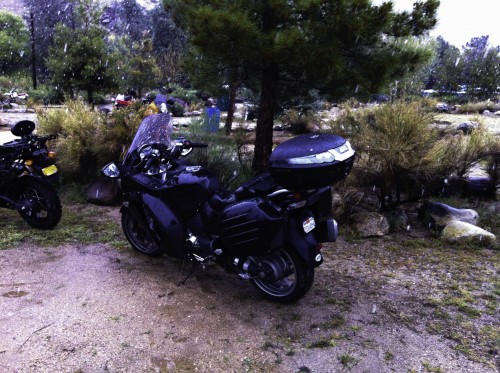 Lucky for us and the restaurant patrons, along about 3 PM the camp owner got our water back on and it lasted till about noon on Sunday.
Some folks couldn't handle the pressure and disappeared (or perhaps more likely they were just off for more beer).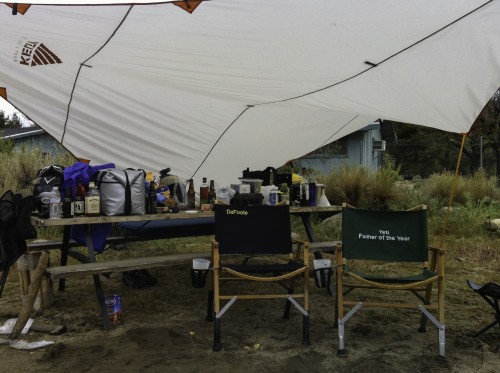 Cell reception was not great for AT&T in camp, but txt messages seemed to get through okay and Pete, TheDonPuccio, was keeping me abreast of his trip down from Sac. Mid-afternoon I got the message his bike wouldn't start in Fresno after gassing up. About an hour later the next message was that it was his starter clutch. He arranged to get it started and turned around and headed home. Another participant out. Next year Pete – I'm going to need some minions.
Sometime in the afternoon Gerg brought by a sample of the most righteous stout I might have ever touched lips too. THANKYOU CONESTOGAMAN! Nice to know you'll be bringing some of that back next year!
DaFool cooked up some amazing ribs, the beer flowed, the lies got bigger, the insults sharper, and the night colder.
That is the official ADV salute Mike (DaFool) is flashing in response to the question of when dinner is going to be ready.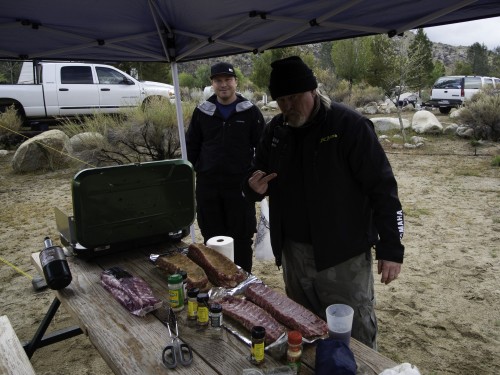 Dragon M trying to stay warm in his mesh gear.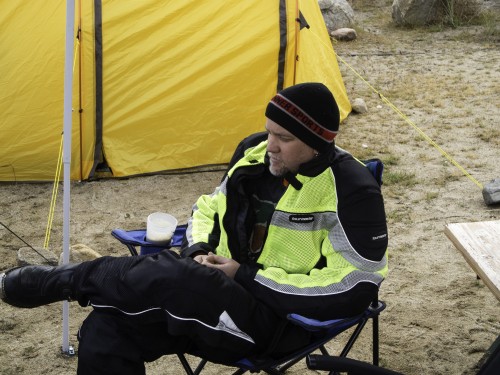 Auggie_Doggie and JStory waiting patiently on dinner.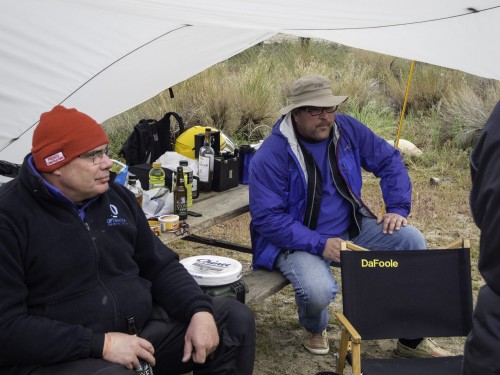 Lasherman and his brother Memnok enjoying a pre-dinner cigar.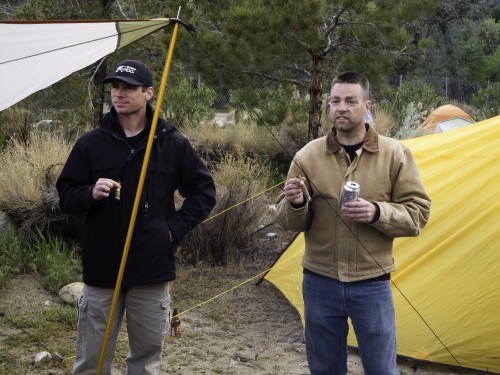 YetiGS, former HDIC for WARPED VI and VII, never misses a salute opportunity.
Now those are coming along nicely.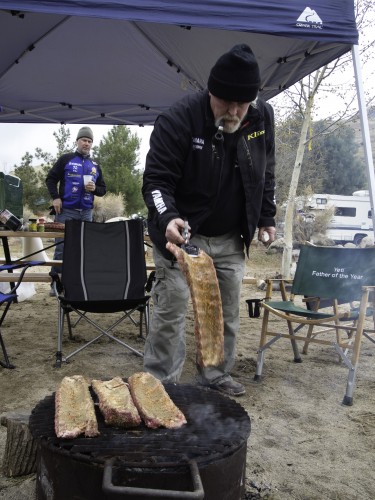 I'm sure I'll miss some, but I had a great time with DaFool, Yeti, Darien, Nappy G (aka:Ben Carufel), JStory, Gerg, Cyath, sopascat , SenorPeligro, Lasherman, Memnok, Bonerov, Augie_Dogie, Roger and a whole bunch of other FF's who's names and or ADV handles I didn't catch. Apparently even Petefromberkely and RAZR were at our fire and I never made the connection. Next time gents!
By the time we went to bed we could see stars. Disappointed that Pete won't be joining us, but hopeful we'll have riding weather tomorrow!
Today's Route: 5.9 Miles