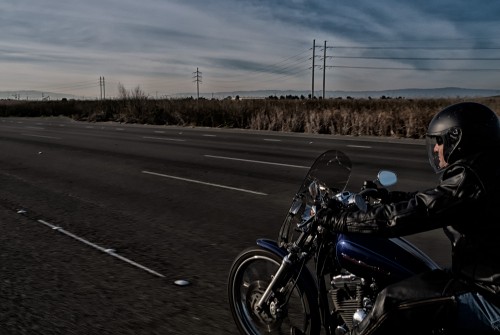 Ever since Pete moved to Sac over 18 months ago, we've been threatening to ride down to Monterey and have lunch with Russ, (a friend of ours for, ah let's see now… No, can't be almost 20 years! But it is. I don't feel that old).
I check the weather the day before and see that it's going to be another sunny, 65 F degree plus day in Northern California and call Pete. Doesn't take much arm twisting with Pete as usual. Russ is going to be home? Check. So Pete rolls over Saturday night from Sac to get a head start. I'd say we were moderately good boys Satuday night. Could be we just ran out of beer – but we were sacked out by 10:30.
Up at 6:30 and by 7:10 we were wrapping ourselves around some biscuits and gravy. Seriously weird gravy too – my first and last trip to the Buttercup. By 8 it had warmed up to around 47F and we were ready to roll. Well, not before I get set up with my new "rolling camera" get up. Black Rapid camera strap with the camera tucked into the outside pocket of my riding jacket.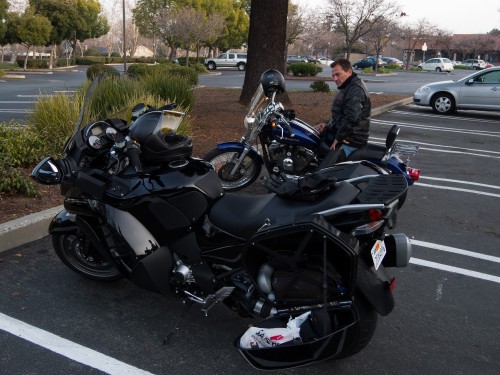 Normally I ride the Vulcan with Pete and other cruiser riders, but I wanted to take the Connie out to do a shakedown on some of the latest farkles.
We pretty much have the road to ourselves.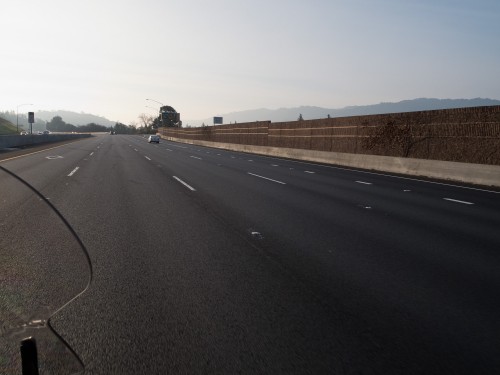 680 to Mission to 880 to 17, and then into Santa Cruz for the scheduled coffee stop at Santa Cruz Coffee Roasters. It was over 60F by the time we got here and not expected in Monterey until 11:30 we have a little time to kill planning a ride this summer, drinking our coffee on the sidewalk, and people watching. Interesting bike set up parked right out front. Wonder if I could set up my risers this way? One set for "sport" and a higher set for "touring?"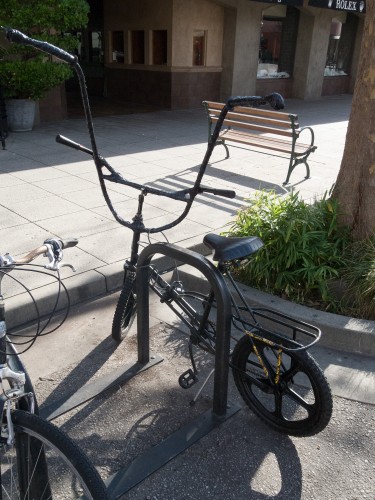 Still need some work perfecting my "behind the back" shots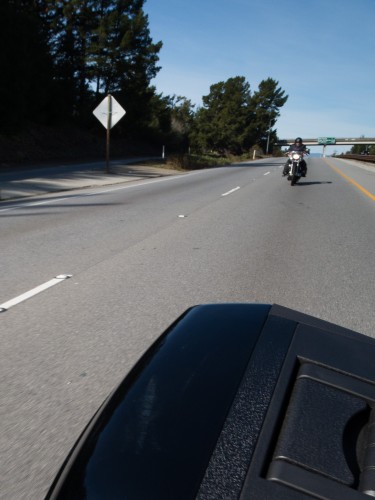 Fact is, I need a lot of practice with the new set up. No good pics from Santa Cruz to Monterey. After a nice lunch with Russ we retired across the street to the now closed Quail Lodge for a cigar. The Lodge closed recently in a dispute between the owner and the union. The golf course is still open and someone appears to be feeding the ducks.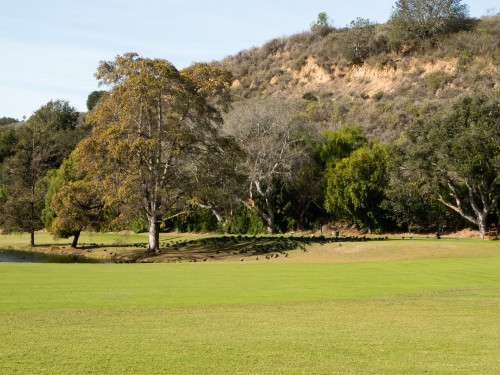 We drag out some of the lawn furniture that is stacked up and enjoy our smoke. It was a little errie walking around the resort and not seeing anyone other than a couple of groundskeepers. Pete and Russ enjoying their Cuban blessing.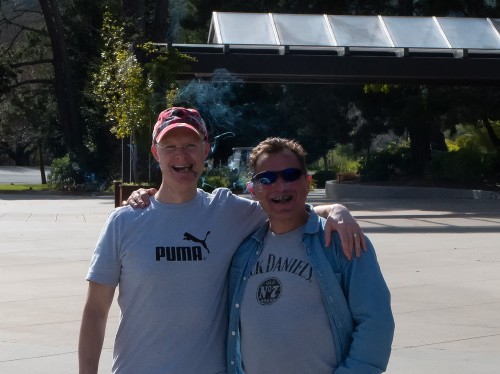 We are getting ready to wrap up, and another friend calls and tells us he is in Concord and did we want to meet up around 4 PM? Hum, it's 1:30 now and we want to go home the scenic root, so maybe 4:45? Deal! So we say our goodbye's to Russ, gas up, and off we go.
We leave out heading Southeast on Carmel Valley Road (Hwy G16) to Greenfield. Nice motorcycle road – not the best kept road, but lots of twisties, only met up with three or four cars on the road and a trio of bikes. Too twisty to fool with the camera for photos, but along the way I felt something crawling on my ear. And then crawling in my ear, so I pulled over in the widest spot I could find in a hurry to get the helmet off before something bit me. Never found what it was, but did get this shot. It was 67F and I was wishing I had taken out my liner before we got home.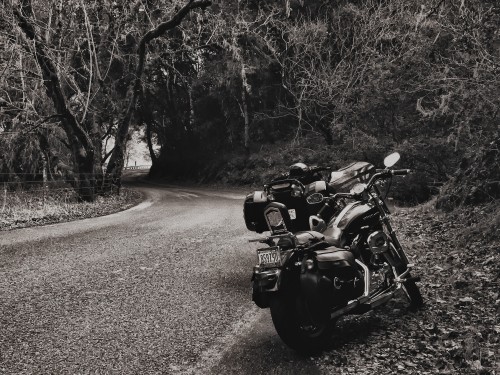 I'm looking forward to taking this little loop again when there is no one waiting on me at the other end.
Back on 101 I play with the camera set up a little.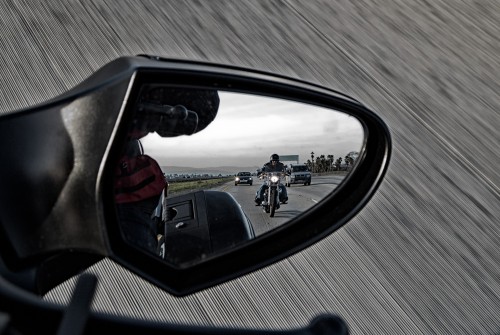 With the "bug stop" and another gas stop, we missed Chad by about 20 minutes, so Pete headed on to Sacramento – after all, tomorrow is a work day.
It was a good day. Sunny, warm, virtually no traffic. Can't beat it. And we got to see Russ. Not bad for the last weekend in January!
Trip Map: 331 Miles