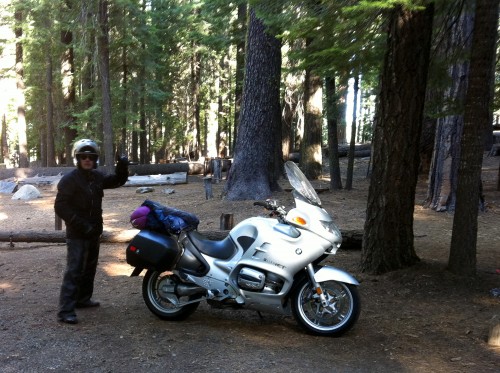 A shot of Mark just after braking camp.
Had last night's dinner been a steak, I'm sure we wouldn't have been up quite so early, but breakfast was calling loudly and after dropping off the spare 6-pack of Blue Moon by the camp of our benefactors, we were well down the road and wrapping ourselves around eggs, bacon, hash browns, biscuits & gravy by 9:30. (Yet another reason it's great to get out on the road.) Realizing that Mark isn't as prone to stopping every couple of hours for a "ceegar," as some of my other riding companions are want to do, I took the opportunity to strap the camera around my neck for some "from the road" shots.
Over breakfast we looked at the map and decided that Yosemite  via Sonora Pass would be our destination for the evening. Of course, it turned out to be everyone else's destination as well. "Who'd a thunk it?"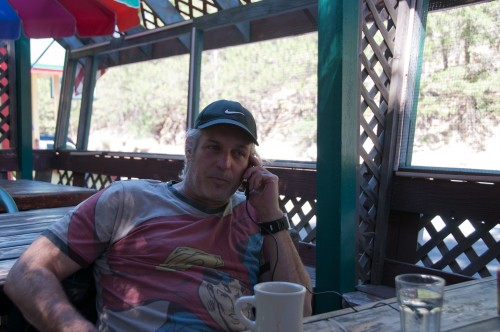 After charging the phones and catching up with the families, we set out for Sonoma Pass. US-50 didn't have much going for it except the great condition of the road and the scenery. But it was a short trip to turn south on CA-89 again – and we did get another pass in: Echo Summit.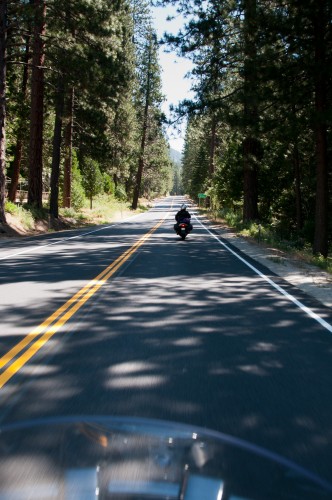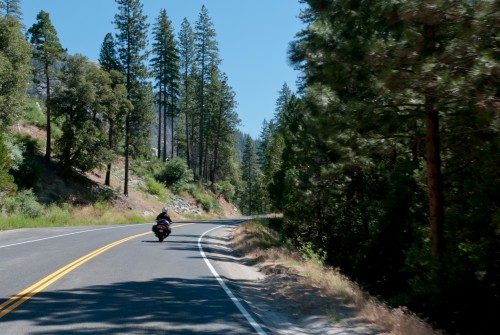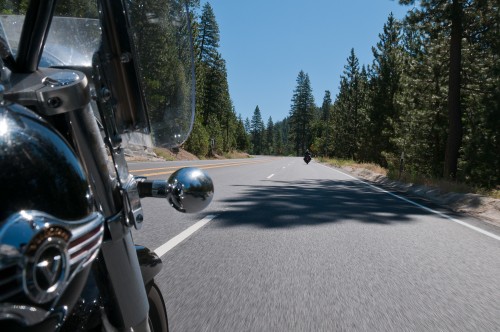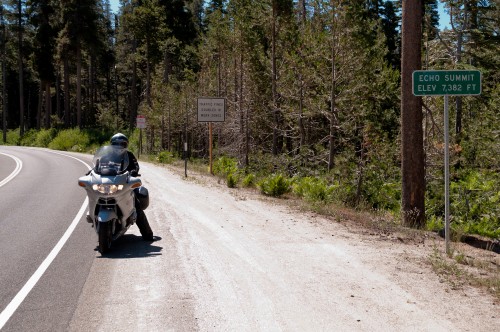 CA-89 put us back in the twisties, which continued as we turned South-East on CA-88.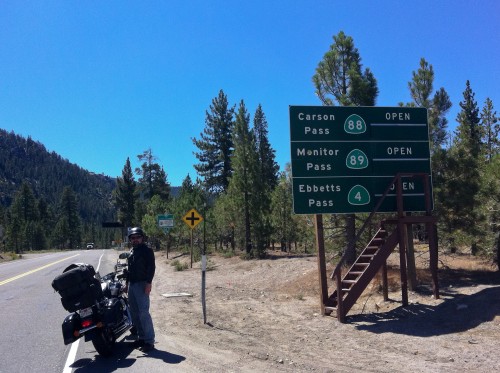 Despite the several streaches of road construction, it proved to be an enjoyable ride.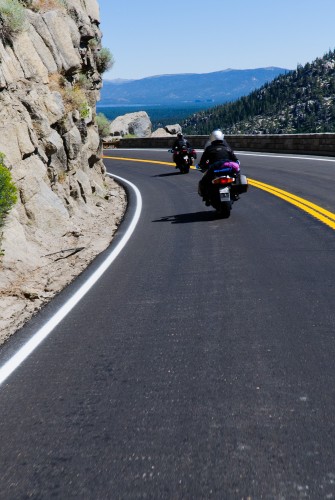 Mark following a Concours down toward CA-395.
We even found a nice place or two to set up for a photoshoot.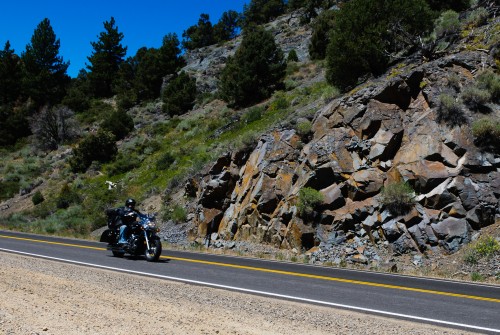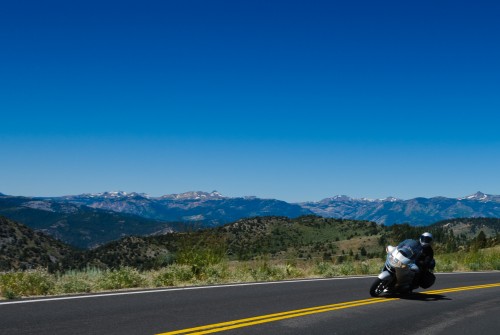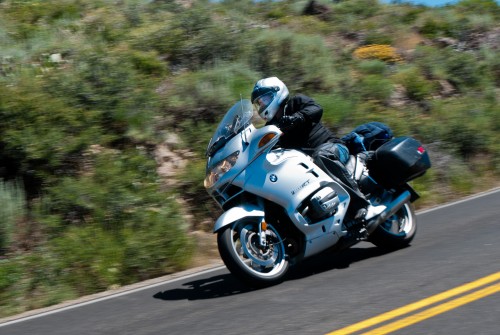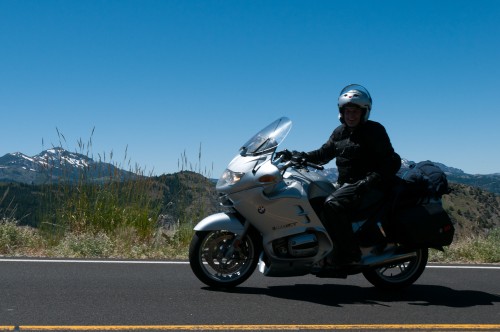 Yes, as a matter of fact, we are having fun. Thanks for asking.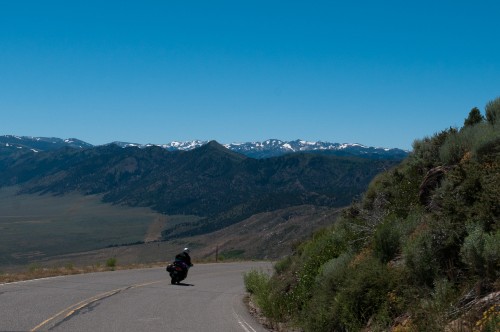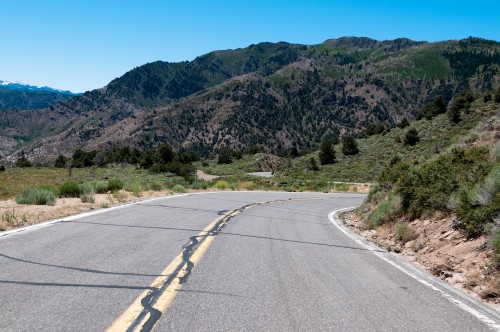 And yes, that small spot in the far curve is Mark. The cruiser just couldn't keep up with the sports tourer.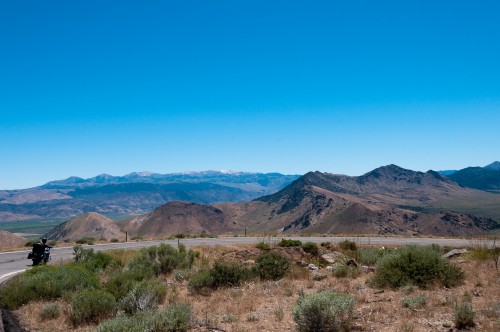 Mark even gave the BBSMJ* left-handed camera technique a try – with darn good results.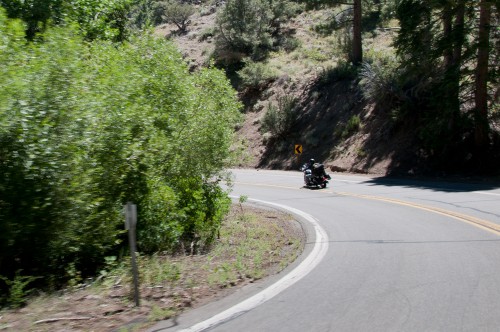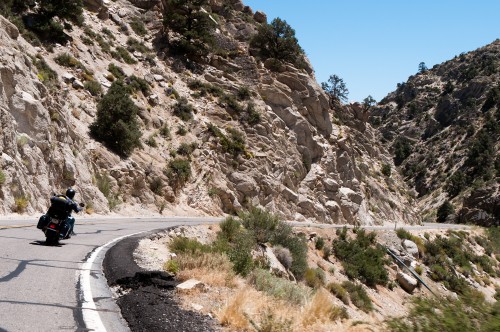 Approaching US-395 felt like roaring into a blast furnace. The temp probably went up 30 degrees to somewhere north of >110F on the valley floor. We stopped and downed a quart or so of Gateraid and stood in front of an air conditioner for 15 minutes. Higher is cooler, so next stop? Ca-108 and Sonora Pass.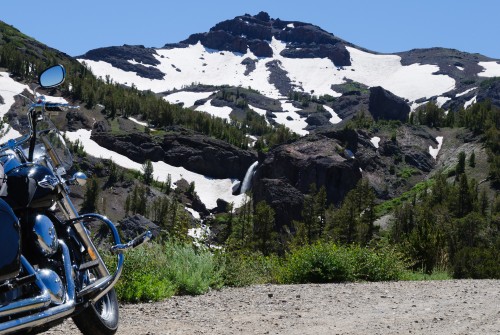 It was cooler – there is still snow up here!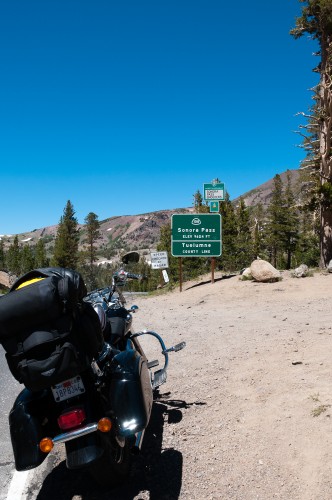 This kind of road is too precious to waste, so I waved Mark on ahead to make the most of it. I think I need a sports tourer.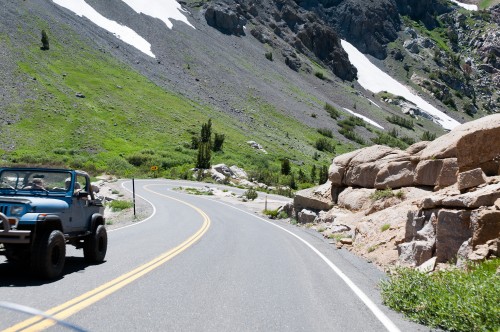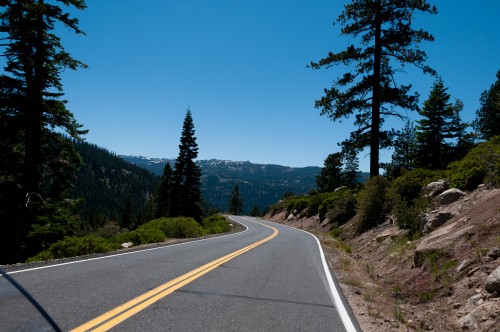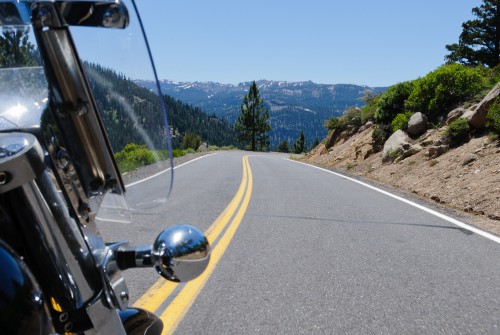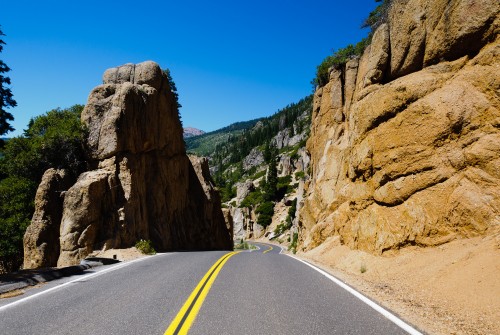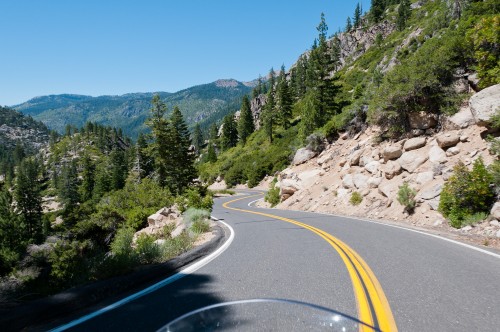 What a wonderful road!
Somewhere along the way I caught up with Mark, stowed the camera so I could make better time, and we sought out a little used cut-through from East Sonora to Big Oak Flat/Groveland. Ward's Ferry Road was hard to find, and even more difficult to navigate. I'm pretty sure we didn't save any time, but we sure enjoyed the ride.
This was the only spot on the route that I felt safe enough to stop and take a phone picture…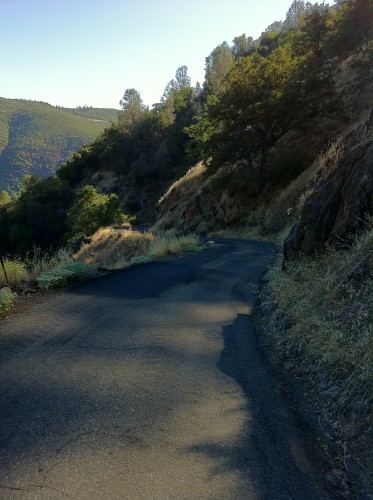 The width, condition and angle of decent sharply deteriorated from here.
In an attempt to forestall a repeat of the night before, we stopped in Groveland at the first spot we saw to pick up groceries for the evening and checked out a next-door historical establishment: The Iron Door Saloon. It looked like a great place to stop for a couple of brews, but as we didn't quite know we we would be staying, we chose not to linger. With the bikes piled high with boxes of wood, and plastic bags of groceries strapped all around, we looked like the Beverly Hillbillies on bikes. I wish I had thought to get a photo.
Of course, some 30 miles later at the entrance to the park we were informed that the entire park was full – not a campground or hotel room to be had. Oh yeah, it is Labor Day weekend. Shocker.
While we discussing whether or not to fall back on plan c, (which is roll into a campsite of other motorcyclists with beer and food  to share and offer to reimburse them for the site if they'll let us camp with them), the ranger told of us of a free spot where camping is allowed if you have a fire permit. Getting a fire permit required another hour's worth of riding, the required lecture about fire safety, and I'm pretty sure Mark had to put his house up for collateral.
We found the free camping area and wrestled our bikes passed the boulders there to block the cars. By the time the tents were pitched, the salmon on the fire and the beer in hand, all the trouble seemed worth it.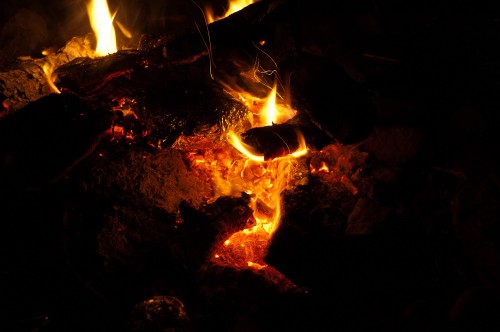 By the time the butter-dill-lemon salmon and baked potato with butter and cheese  came off the fire, we knew it was. Afterall, it always is. That's why we do this.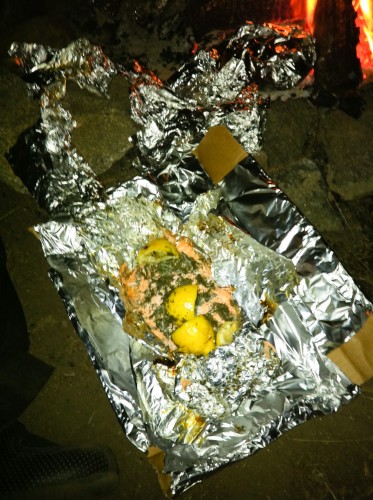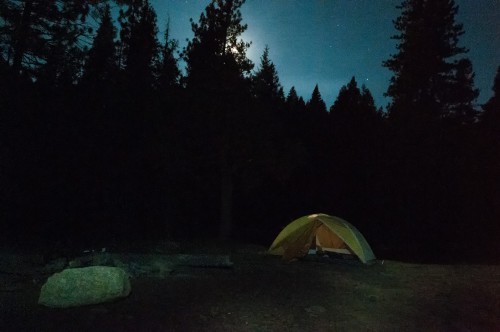 We didn't stay up near as late tonight – just late enough to make sure the fire was out!
Today's route: 248 miles
Summits:
Echo Summit
Sonora Pass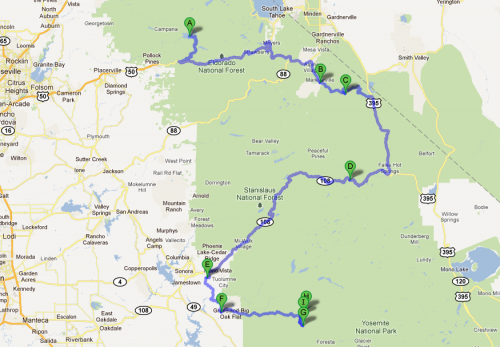 * Billy Bartles School of Motor Journalism