Day 18
August 22, 2010
Little Rock, AR to Russellville, AR: 77 Miles
Bill & Beth Greene were kind enough to let me use their guest room and Bill and I ventured out to his sailboat for what we affectionately call "Sailboat Church." A great cigar and two hour conversation later put us pack at his place for lunch.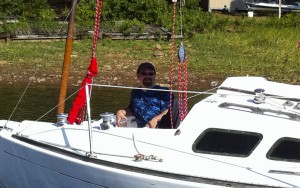 Four hours later I had caught up on work – thanks Bill for letting me use your office! And I was off to Russellville to visit with Rex & Amberly Knight. When I arrived, Rex was deep-frying catfish. It was delicious, but I have got to get out of this state!