Day Two
August 6, 2010
Yosemite National Park to Indian Springs, NV: 359 Miles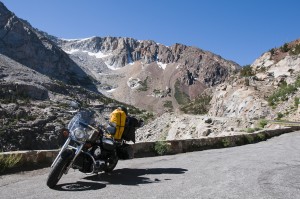 This is a shot of the Tioga Pass Road going east out of Yosemite. This pass is the highest auto pass in CA; the elevation is 9945. It drops 3100 feet to Lee Vining below. I think everyone who rides should enjoy this little stretch of road. It is somewhere short of sweepers, but the road is good and you can practically coast down.
Coming down off the pass was a bit of than adjustment temperature wise. By the time I reached Lee Vining I was ready to shed some layers. It was already warm, so I didn't dally in taking the closest road east: Hy 120 off across the desert.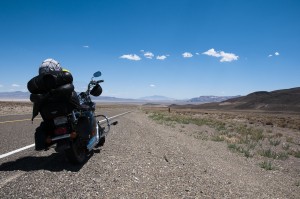 Pulling over to get this pic: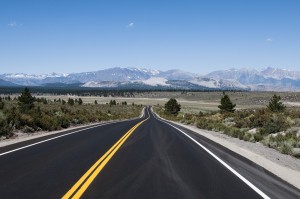 I hit a very soft shoulder and buried the bike 4 inches deep in dust and gravel. Fortunately I got my feet down and didn't let the bike tip over. I held it up with one hand and unloaded it with the other. Not particularly a graceful act – but effective. With me and my gear off, I worked it back up onto the pavement with no small amount of dust and gravel thrown. All in all, what should have been a 3 min stop took 45.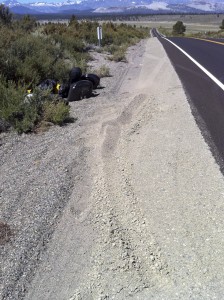 The general plan was to head due east across NV, but coming out of a gas station I missed a turn and ended up continuing on 95 south to Baily. By the time I noticed it, at the next gas stop, I was two hours down the road.
And, since I'm making this trip up as I go, I adjusted and just kept going till I hit Indian Springs.
When you are hot and tired, it's hard to say no to a Casino/bar/restaurant/motel/gas station/convenience store. For 80 bucks I got a clean room, a hot shower, dinner at the bar ($1 beer & $4 drinks) with Shark Week on the big screen.