Monday, September 1, 2008
443 Miles
With a somewhat clearer (and much colder) day facing us, we wrapped ourselves around a hearty breakfast, suited up, gassed up, and headed south on the Wyoming Centennial Scenic Byway and then Hwy 26/89.
This is a beautiful drive. Under dryer conditions this road would be sheer pleasure. Smooth, fast, sweeping curves with the mountainous scenery that one would expect in Wyoming. I want to come back here in the late spring again.
We spent the next five hours or so running through the occasional rain shower and freezing our hands off. And yes, I do mean hands. Our other gear was sufficient to keep us warm in the near-freezing temps, but our gloves, being damp, just weren't up to the job. I would have given a hundred dollar bill for a pair of dry, waterproof gloves and almost that much for a $1.50 pair of hand warmers. Pretty sure Pete would have done the same.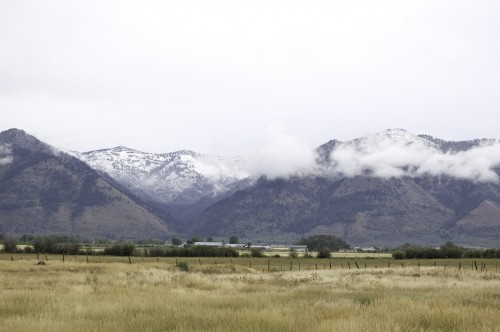 With snow covering the mountains around us, we stopped to get gas and thaw our hands at Gardner's in Afton. As Pete mentioned in his post, he had the unexpected pleasure of learning that one of his wrestling heroes, Rulon Gardner owned the place where we stopped.
Having missed our turn, we replotted our course through Geneva, Montpelier, and back up Hwy 30 to Soda Springs. Once again, a trip I'd much rather take in late spring or early summer.
With the storm bearing down on us from the North, we didn't stop much for photos or for much of anything else continuing on up Hwy 15 to catch Hwy 86 West back to Twin Falls.
Having decided that neither one of us are Iron Butt riders, we grabbed a quick dinner at Sonic with the intention of splitting up and making as much time as we could toward our respective destinations. As usual, we tasked some unsuspecting soul with capturing the picture below.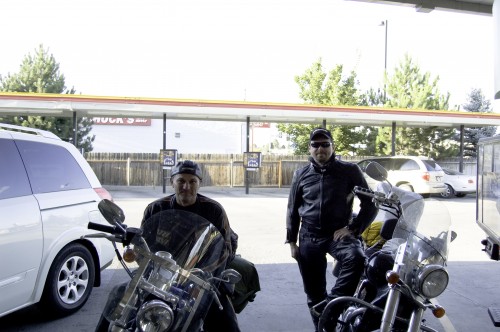 I headed South on Hwy 93 while Pete continued on his way. Several hours later, realizing that I had indeed missed the storm, I pulled over to add a couple of layers of warmth and snapped the following picture: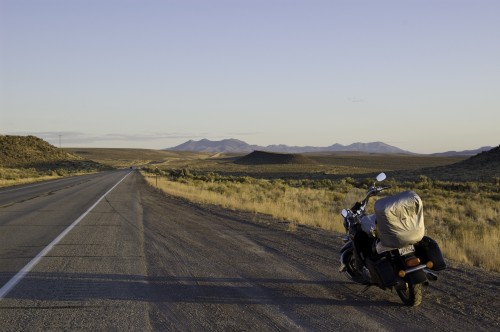 My intent was to make it to a campsite in Wells. I did make it to wells, but all I could think of as I rolled into town was a hot shower and being warm. Dry gear that will keep you warm during the day when it is in the mid-30's doesn't quite do the same job after the sun goes down and the temps drop into the low-to-mid 20's. I did make it to Wells, but I checked into the first hotel I found to thaw out.