Hello all,
I am finally at a place where i have high speed internet and some time at my sister's home in Kennewick, WA. So, i can add my comment to Bill's blog on Bill and Pete's Excellent Adventure #2. (many more to come … join us!)
The nice thing about traveling with Bill is that he brings everything. I packed in about 15 minutes for the trip, really. If i thought, hmmm … i wonder if i need this or that; I'd say no, Bill will bring it.
Now Bill is also turning into a bit of a PhoTAGapher buff. He brought three cameras; his iPhone, last year's Cannon and some new expensive really nice one this year. So we'd stop and i'd just sit there while Bill took pictures. I liked it because i will get them all later and i was there to see it firsthand but as well i'd talk to people while he shot pictures. (Mostly gorgeous women) I have a few pics i uploaded here that i took from my Dash. But i'll leave the real pictures to Bill to upload later when he gets time. I'll just post pics i think Bill won't.
Here i am just inside Yellowstone. See, don't i look totally at peace? The road is great therapy!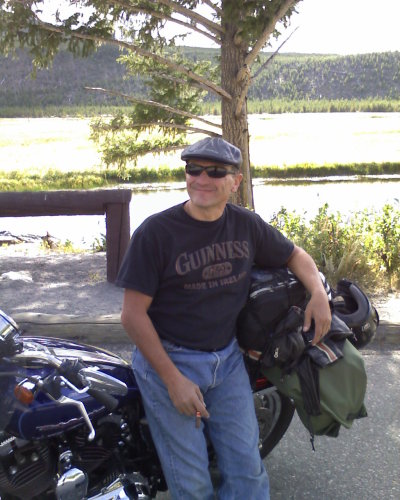 Here is Bill taking pictures. You can tell a real phoTAGapher cause they always put themselves in strange positions like the scenery will change or something … I don't know, ask Bill …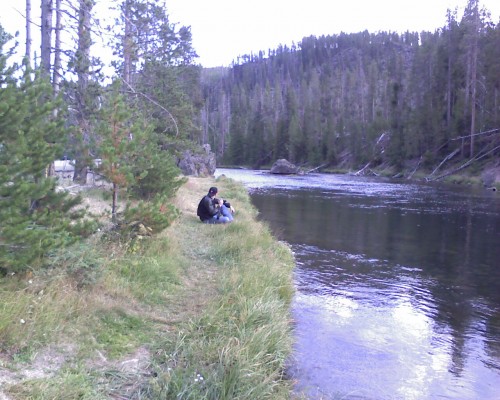 This is the Old Faithful Inn in Yellowstone and some stair rails i thought were cool. All the stairs and rafters and any brace anywhere on the building were made of tree branches. I loved it …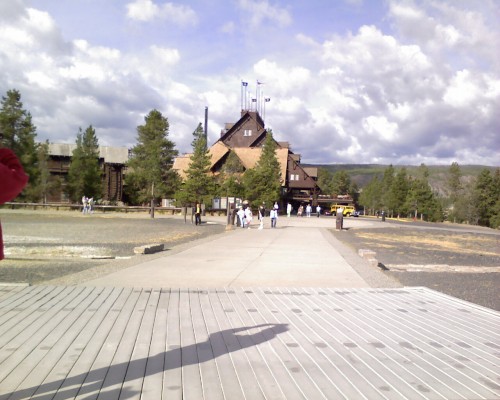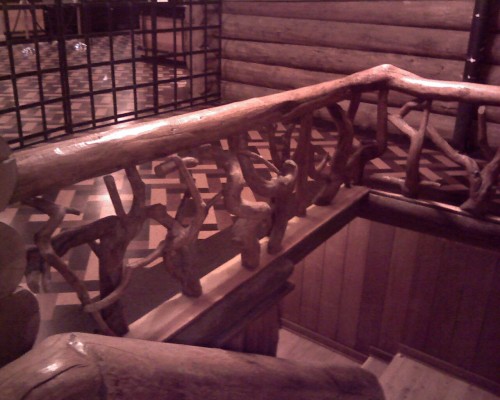 I shouldn't post this one because Bill will have a way better shot but here it is … Old Faithful …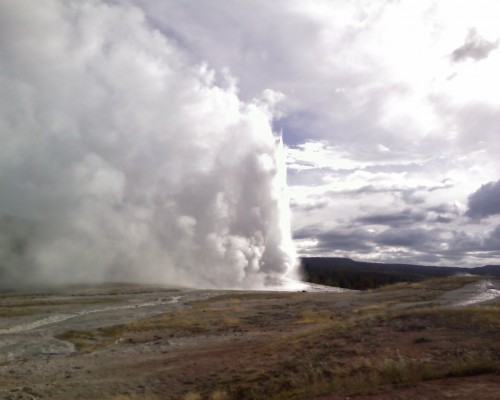 Now this is a great place. I have made this my background. It was amazing … beautiful prairie in Yellowstone.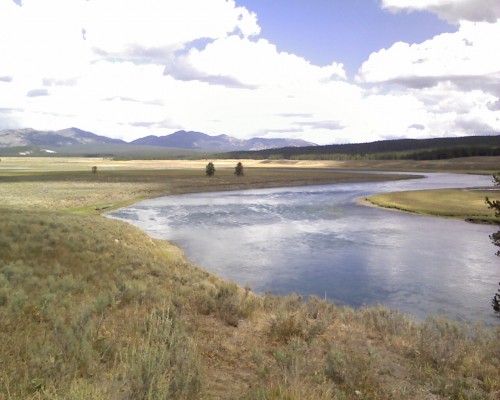 Here's Bill … we stopped and smoked a cigar where i am sure Clint Eastwood smoked in one of those movies ??? …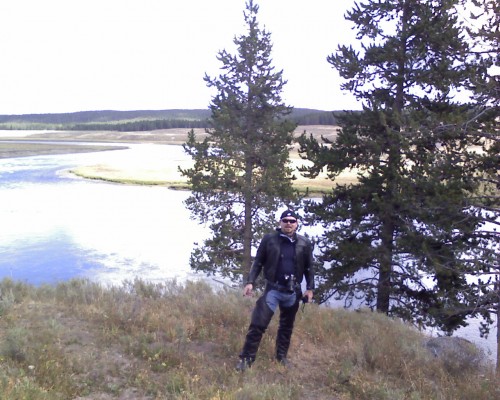 The bikes in front of the grand Tetons … storm rolling in … here is where we heard the news of Sue Chambers. Dave and Sue Chambers, I just met them last year on our first trip … wonderful people.
We stayed the night in Jackson Hole and spent the night drinking and playing pool in the Million Dollar Cowboy Bar (my kind of place!) Of course we also had a great Filet and fine wine but the pool was the highlight for the Don Puccio (and our hostess Elena) http://www.milliondollarcowboybar.com/
Now as we came down out of the Grand Tetons storm pounding us we missed our turn and rode 40 miles too far in 37 degree weather. At least it wasn't raining or snowing on us. But we stopped at this gas station restaurant to gas up and beat hypothermia. On the wall was this "Hall of Fame" for Rulon Gardner. Now Peter Madison will know Rulon and anyone who is into wrestling. He is an Olympic Champion Greco Roman wrestler. Which is an accomplishment but he is not just that. He won arguably with the greatest upset in all of Olympic history. He beat Alexander Karelin a Russian going for his 3rd Olympic gold and who had never been beaten in international competition. Turns out he is from this place in Wyoming (wrestled for Nebraska) and he and his brother own the place. (read his story here: http://www.starvalleywy.com/Rulon.htm)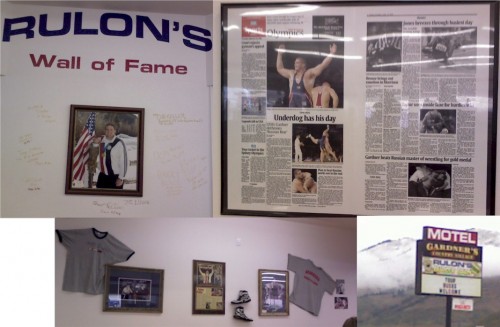 In the Grand Tetons we stopped for coffee and to warm up and learned about Stephen Leek, Father of the Elk. Read about him here.
The trip is not over for me. Bill and I parted ways in Twin Falls, He headed home i am spending a couple days in my home town with my sister visiting friends and family and them I'm off to Coeur d'Alene Idaho to raft a river with an buddy of mine and his dad. Then back home in time to make my APA pool playoffs Sunday night.
Here is the view from the scenic view point on top of Deadman's pass near Pendleton Oregon. My little cell phone camera didn't do it justice. You can see forever … all the way to Mt. Hood and Mt. Rainier!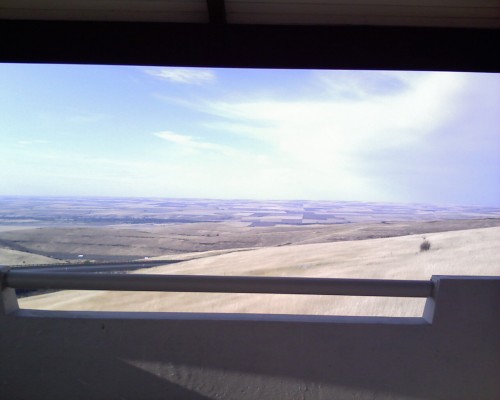 After taking this picture i road down Deadman's Pass listening to Johnny Cash and Willie Nelson live version of Ghost Riders in The Sky. Nice!
I stopped to watch the sun set half an hour later … Bill and his phoTAGaphere equipment ?!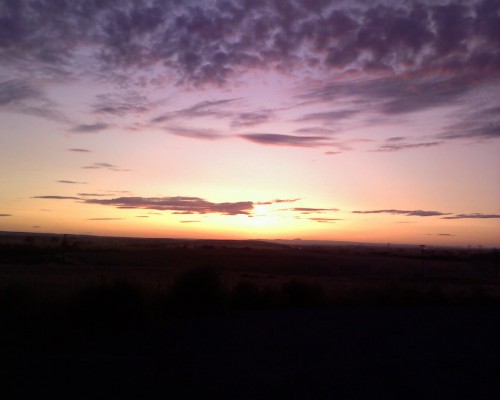 This was an excellent adventure. We will do it again. You should start planning now to join us. It will only make it better.
The Don Puccio