SF to Phoenix to Mesa to Sedona, AZ
Interview Report: I seriously considered whether or not it was a wise idea to interrupt my vacation for an interview. A conversation with one of the founders and their willingness to fly me back in to SF convinced me that it was a worthwhile "break" from the ride.
After the interviews I'm sure it was a wise decision – regardless of the outcome. This team has set some high standards for their work and their culture. More importantly, from my brief exposure, everyone there has bought in and is working hard to live up to those standards. I'd consider it a privilege to join their team. Whether or not I get a job offer, it was an encouragement to know that there are still advertising firms out there that care just as much about growing people as they do producing great work.
But now I have, as Pete put it, "my back out on the highway, smelling air that taste like freedom."
A non-eventful flight (the best kind) landed me in Phoenix around noon. I picked up the bike from storage and left for Mesa, AZ to see Jeff and Darlene. We caught a movie and then dinner to catch up. If you are in Mesa, The Red White & Brew restaurant was excellent. If you have never had "Alaskan Lobster" (Halibut cheeks), I highly recommend you do. It is a bit less "rubbery" than Lobster and has a similar texture and taste.
Jeff and Darlene have wonderful home with a vast view: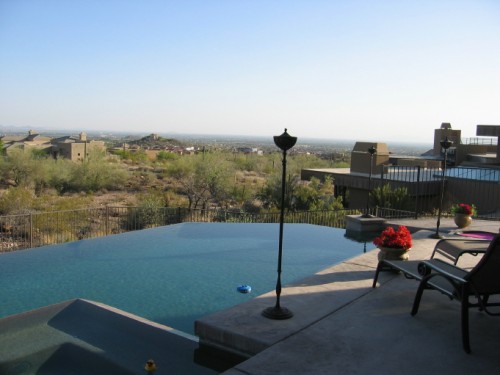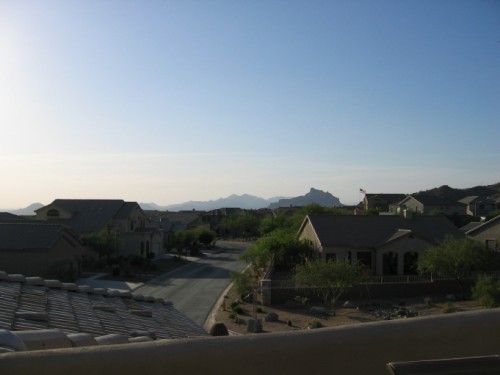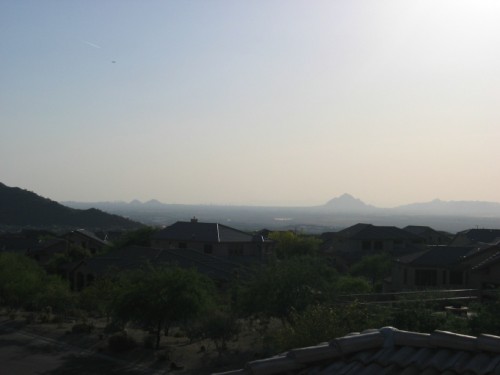 After dinner we loaded up and drove north to spend another day at their vacation home in Sedona. While I enjoyed the drive through the desert at night, it became obvious to me that I need some new headlights on this machine if I'm going to make a regular habit out of this. The high beam just didn't provide enough coverage for me to feel completely safe at highway speeds.
Today's Route: